Principal's Message
Welcome to the 2014-2015 school year at K. Smith Elementary! Our school motto is: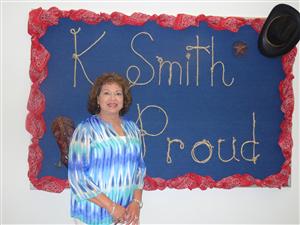 "Together We Will"
As we approach the Winter Break, I would like to first take this opportunity to wish you and your families a happy and safe holiday season! I hope that you will have a chance to relax and enjoy some special times with your children. We have had a busy and prosperous semester thus far. I am proud of how hard our students have been working each and every day! One of our school-wide goals this year is to help our students become stronger readers and writers. One idea would be for your children to create a "winter vacation journal" about some of the fun things they will do while away from school. It is also important to continue reading throughout the winter break.
Please take note that our school will be closed December 22nd – January 5th. School will re-open on Tuesday January 6th, 2015.
Have a Happy and Safe New Year!

Gloria Salazar, School Principal