Greetings Parents,
It's with great honor that I take the realm here at Gregory Lincoln Education Center (GLEC). Though this change has come mid-year, I know that together we can return GLEC to the glory days of honor and recognition!
We're in the midst of change, but these pursuits are needed and conceived with the best interest of our students in mind! Please bear with us as we transition. However, know that protecting your children is my utmost priority. With all of us working together, there's no mountain we can't climb in order to achieve more!
Please know that I'm here for you, as well as our staff and students! Our teachers are the life-source of our campus. They continue to be strong for your children, our campus and the community. This is our "turn-around year," you all are my new family members! Let's show Houston ISD and the world how great our community is! I look forward to "rolling up our sleeves" and getting the hard-work that needs to be done, done with valor and excellence! Our scholars deserve the best ALL of us have to give! Let's finish this year strong!
With gratitude!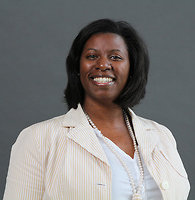 Principal at Gregory-Lincoln Education Center