Jaime Davila Elementary School of Environmental Science and Public Service welcomes you and your parent to our school. We are anticipating an exciting new school year! As a citizen of this school, you are expected to follow the rules which have been established for the safety of the entire student body. Following these rules will help all students to become more productive school citizens.
Share in our pride and take care of your school. As a school citizen, you are expected to conduct yourself properly at all times. Always work hard to maintain the cleanliness and attractiveness of your school.
It is very important that parents, teachers, and administrators communicate openly and frequently as a means of supporting student learning. We all want the best for our students, but we are not enough. You, the parents, must play a key role in the education of your children. Parents count! Come to school, meet with us, talk with us, join the PTO and volunteer your time and energy. Your involvement will show your children that you value their education.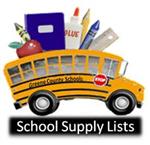 School Supplies 2015 - 2016 / Lista de Útiles 2015 - 2016