Mandatory Senior Survey - Required to be cleared during Senior Check-Out

---

---

IMMTrac2 Form to have Immunization records saved.

---

Announcement:

Seniors will participate in a checkout process. Caps and Gowns will be distributed the week of June 7th along with senior t shirts.

Class of 2021 Graduation

Graduation for the Class of 2021 will be held June 13th at 8:00 pm at Delmar Stadium. The graduation ceremony will be Live Streamed. To comply with the Center for Disease Control (CDC} recommendations, the Houston Independent School District (HISD} will be limiting stadium capacity to 50% for all 2021 Spring high school graduation ceremonies. This will allow guests to social distance in the stadium seating and lobby areas. Each Senior at Bellaire will receive 7 tickets and 2 parking passes. Infants and children 4 and under do not need a ticket to enter.

HISD will be using the GoFan mobile app to distribute admission tickets and parking passes. Once the GoFan app has been fully developed, we will provide complete details and instructions regarding the ticket distribution process

.

Professional Photographs Available

Each senior needs to register with Marc Nathan Photography to have access to photographs taken at the graduation ceremony. Click here to complete the photographer's form.

---

Seniors,

Let's celebrate your graduation on Saturday, June 5th from 7-9 pm with a BHS Beach Bash at "Pebble Beach"! (Pebble Parking Lot at corner of Maple and Ferris.)

Enjoy an amazing evening of fun that starts with a "build it yourself" slider bar for dinner from The 401. Cool off with a refreshing Kona Ice after dancing in the DJ tent. Even if you have no dance moves, there are so many other fun ways to play. We have yard games like Corn Hole, Yard Pong, Giant Connect 4 and Shark Disc throw. Enjoy a round of Beach Ball Volleyball before you hop on a Giant Hippity Hop Ball to compete with your friends for raffle tickets.

Then head over to the "Back 40" of Pebble Beach and take a spin in the "Tubs of Fun" or compete for more raffle tickets in the "Sports Challenge" that includes a basketball, soccer and football challenge. Compete with your friends in our 40-foot-long obstacle course or by sliding down the 30-foot-high slide! For the adventurous, try to stay balanced on a stump in the Log Slammer while a tree log swings through the air trying to knock you into a gator infested swamp. Or avoid a Wipe Out when 8 people take on two beams. You jump over the low swinging beam and duck under the high swinging beam. Be very diligent as the beams could change direction at any moment and knock you of your pedestal!

Each of you also gets a chance in the Money Machine to win gift cards and raffle tickets. Many of the games also earn raffle tickets. Why do want the raffle tickets? At the end of the night, you could win amazing items like a Mac computer, TV's, Southwest Airline tickets, lots of Gift Cards and more. You earn raffle tickets just for attending so everyone can try! The raffle will be held at 9 pm and you must be present to win. All in, we will be giving away over $12,000 worth of prizes. We hope to see you all there!

Link to Join Meeting is on our Homepage

Click here to watch a recording of the meeting.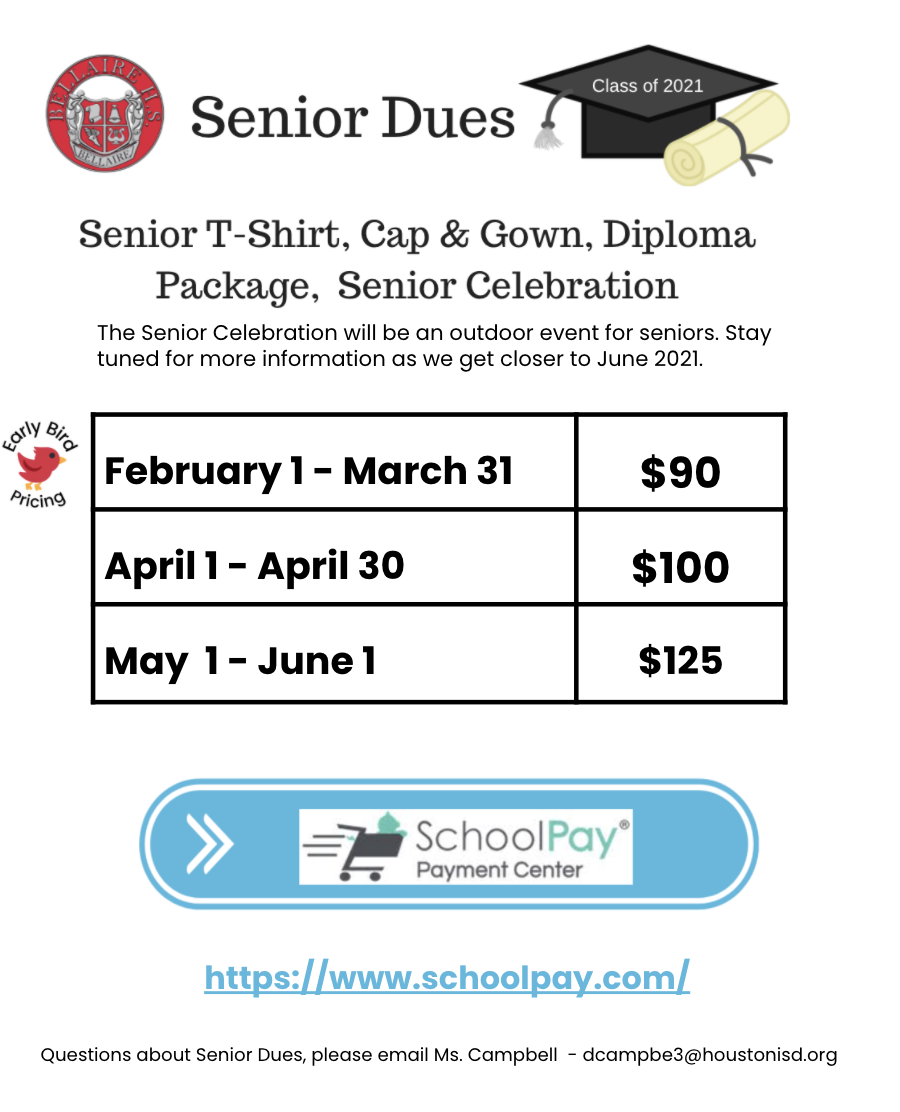 Seniors, your Preliminary Rank, GPA, and Quartile was sent to your HISD email addresses Saturday, October 24th. If you have any questions, please email our registrar, Ms. Brevard at Brandi.Brevard@houstonisd.org

Sign-Up for an Appointment Here!

**You must schedule your appointment by Oct. 31st to be included in the yearbook.