Important Announcements
HCC Friday Lunch (based on A3 course)

| | |
| --- | --- |
| A3COURSE | ASSIGNED LUNCH |
| ACDC ELEC B | A LUNCH |
| ALG 1B HADV | A LUNCH |
| ALG 2B HADV | A LUNCH |
| ALG REASONING B | B LUNCH |
| AP ENG LANG B | B LUNCH |
| BIOLOGY B HADV | A LUNCH |
| CHEMISTRY B HADV | A LUNCH |
| COMM APPS - DCH | A LUNCH |
| ENG 2B HISDADV | A LUNCH |
| HISDADV GEOM B | A LUNCH |
| INSMTH DCH A | B LUNCH |
| INSMTH-1324 DCH | B LUNCH |
| LAB ASSISTANT 2 | A LUNCH |
| METH ACAD PER B | B LUNCH |
| OFF CAMPUS A | B LUNCH |
| PHYSICS B DCH | B LUNCH |
| PRIN APP ENG B | A LUNCH |
| READING INTERPRETATION 1B | A LUNCH |
| SCIR&D 1B-DCH | B LUNCH |
| SPTSS 4 - DC H | B LUNCH |
| SSAD 2 DCH | B LUNCH |

HCC Schedules

Students, please be advised Canvas does not reflect your official HCC schedule. Canvas is HCC's learning management system (like the HUB for HISD) and requires the professor to publish the course before you can see it.

Please visit Student System Sign in by clicking here.
Click on this image

"Manage Classes"

---

Welcome Back - New Schedules

Wednesday, January 19th is the first day of second semester. Dean Speier sent an email to each student with most up to date schedule. Students requesting a change must follow the schedule as is until student recieves confirmation it has been changed. Students may also view live schedule using Power School.

Click here to check HISD Email using Outlook

Click here for parent access to PowerSchool (HISD Connect)

---

School Store

We have items for sale in our virtual school store! Students will receive items (delivered by Mrs. Palacios) after purchase is confirmed.

Click here to visit our school store

---

How to order free at-home COVID-19 tests from the government

Starting Jan. 18, people can visit https://www.covidtests.gov/ to order their free at-home tests or go directly to the U.S. Postal Service (USPS) order form here: https://special.usps.com/testkits.
COVID Protocols
Reporting Symptoms, Test Results, or Exposure

Students, if you have information to report, you may

Text 281-858-3302 (anytime)

Call 713-847-4809 (Mon-Fri 7am-4:30pm)

Please have student stay home and immediately inform the school if the student has a confirmed COVID-19 diagnosis, has been exposed to someone with a confirmed COVID-19 diagnosis, or is presenting symptoms that are related to COVID-19. Please be sure to leave us with best phone number to text updates.

Students may visit www.houstonisd.org/EastOnline to stay up to date with assignments from teachers (if they feel well enough to do so.)

---

Asynchronous Learning

Please be advised that we recommend students enrolled in college classes to attend those classes. This is important for students to remain on track towards Associate Degree. As a result, our students are unable to take advantage of the opportunity presented by HISD's Temporary Online Program. East ECHS students should visit our Asynchronous Learning Page as well as Canvas (HCC) to remain up to date with classwork while at home.

Students required to quarantine should work on asynchronous assignments if they are able to do so. Please click on each teacher's name below to access instructions for each class. Please be sure to attend virtual HCC classes to ensure you do not get behind with college classes.

If your teacher is "Speier, Mark" that is means that course is taught by an HCC professor. Students should log in to Canvas and keep up with all college work.
Final Exams
Final Examinations Regulations
♦ A student cannot retake a final exam to improve his/her grade.


The HISD Code of Student Conduct indicates that it is a disciplinary infraction to cheat or copy another student's work in class. Therefore, students who are found to be cheating on their final exams should be given a zero on the exam. Present guidelines mandate the computation of the final examination grade into the final grade. If a student is found to be cheating on the final examination and given a zero, the zero will be averaged in as zero and will have a significant impact on the final grade in the course. This rule on cheating applies to all schoolwork. A student found cheating on any assignment or test will be given a zero.


Students required to quarantine:

Please know teachers may not make arrangements to administer final exams before scheduled time. If you will miss your final exam, please communicate directly with your teachers for instructions. Teachers will enter a grade of "0" until your exam is made up. Once you return, you will make arrangements with your teacher to make it up. Please followup with Mrs. Square via teams if you have additional questions or concerns.
Upcoming Events
Upcoming Events

JAN11

JAN 12

JAN 13

JAN 14

JAN16

JAN17

JAN18

JAN21

JAN22

JAN24 - SPRING HCC CLASSES BEGIN

FEB7 - Spring Self Care Clubs begin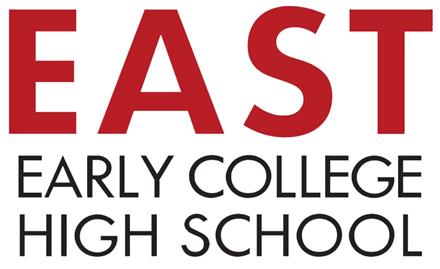 Dual Credit Resources
Use of HCC Facilities - including before/after school hours
It is important we maintini a postive/strong relationship with HCC. Please refrain from entering HCC Fraga and STEM buildings unless you have a class there. Currrently, we do not have any classes at STEM building. This means no East ECHS studentsn should be entering STEM building, unless attending tutorials. If you need any support, please be sure to reach out to Mrs. Square.

---

STUDENT SURVEY

Please complete this survey so we may order your AVID shirt. Feedback to admin team is optional.

---

HCC PARKING PASSES NOW REQUIRED

Need a parking pass for HCC? Don't get ticketed! Follow the instructions below. Remember, parking passes are free so make sure to print your own. Using someone else's pass (they have individual QR codes) puts you at risk of getting a ticket. Send Mr. Walton a message via Teams chat if you have any questions.

HCC Tutorials

Students have the ability to connect with an HCC tutor. HCC Academic Success Center. Call 713-718-8184 or attend in person at STEM building. If students want to stay after school, they may attend in person or use computer to access virtual tutor.

Website: www.hccs.edu/alltutoring

Please click here for the Fall 2021 tutoring schedule: www.hccs.edu/findatutor

NEW! Register for our Fall workshops: www.hccs.edu/ASC-workshops

WebEx access issue

We are working with HISD's IT team to have the WebEx app downloaded to the laptops for all Early College High School students and any HISD students completing a dual credit class taught by an HCC instructor. We appreciate your patience throughout the past few weeks as we have worked with both institutions to identify a solution.

Once we are notified students have access to this app, we will need upi to go to https://hccs.webex.com and log in with your HCC credentials before an account is provisioned for you. Ultimately, you will need to log into this web site first, then your account will work in the app. We highly encourage students to use their HCC email with this account to avoid any access issues.

Respondus LockDown Browser

Please note that the current version of HCC's Respondus LockDown Browser (i.e., 2.0.7.06) now is available in HISD's Software Center. Students will need to be on a HISD server to download the latest version of this testing.

Accessing College Textbooks

Send a Teams message to Kristi Palacios