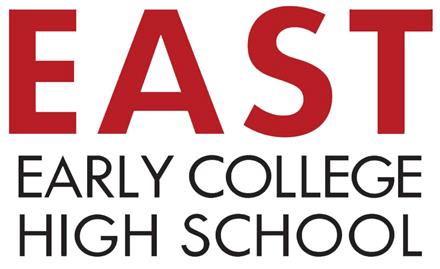 Mission
The mission of East Early College High School is to prepare underrepresented populations for a successful college experience through increasing rigor, developing supportive relationships, and showing the relevance of knowledge to real life experiences.

Our vision is to graduate all incoming students with an advanced high school diploma but also with up to 60 hours of college credit.

The Board of Education's mission is to equitably educate the whole child so that every student graduates with the tools to reach their full potential.

The vision of Houston ISD: Every child shall have equitable opportunities and equal access to an effective and personalized education in a nurturing and safe environment. Our students will graduate as critical thinkers and problem solvers; they will know and understand how to be successful in a global society.
About Us
Most students who choose East Early College come from the immediate area and are typically the first generation in their family to earn a college degree, or even a high school diploma. College is often a dream for many students as they struggle to find balance between school and family responsibilities. Many families struggle financially resulting in several students supporting their family by securing employment or caring for younger siblings.

In addition to meeting social and emotional needs of our students, our school size allows for smaller class sizes and focused attention to academic needs, which translate to more direct learning for students. Key to the school's success is the determination to provide students with the same opportunities provided by more affluent schools and by larger more comprehensive high schools. We try to keep all stakeholders informed and engaged when making school-wide decisions, including but not limited to students, parents, school partners, staff, and community members. These relationships and partnerships continually evolve to maximize opportunities for our students.

School Culture

Everyone works together

Everyone has a voice

Everyone has a talent or gift

Everyone gives something back

School Colors

: Black and Crimson

School Mascot

: Falcon
School Philosophy
East Early College High School is dedicated to creating a college-bound culture. In that effort, we pledge to provide a safe and structured learning environment that will enable us to work with all shareholders. Our goal is to graduate all incoming freshmen in four years with not only the advanced high school diploma but also with up to 60 hours of college credit. Our targeted group is comprised of previously under served student populations from the East region of Houston I.S.D, and our goal is to follow the early college credo of rigor, relevance, and relationships.

East Early College High School was established in 2006 in the East Region of Houston following the early college principles and the standards set by the Texas Education Agency and the Houston Independent School District.