Don't skimp on healthy fats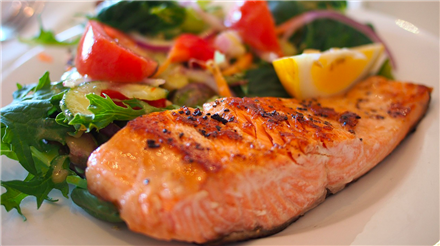 Bad fats: Saturated and trans fats increase your risk of heart disease because they raise your cholesterol. Meat, dairy products, baked goods, fried foods, shortening and margarine all contain these unhealthy fats.
Good fats: Unsaturated fats can help your heart by lowering cholesterol levels. They also provide the essential fats your body needs to function.
Monounsaturated fats have a positive effect on your heart health. You can find them in avocados, nuts, oils and other foods.
Omega-3 fatty acids are a type of polyunsaturated fat that's especially heart healthy. Fatty fish, flaxseed, oils and walnuts have omega-3 fats.
Reap the health benefits when you replace bad fats with good fats in your diet. But don't go overboard – you should eat healthy-fat foods in moderation. Here's a grocery list with foods that are good sources of healthy fats.


NUTS
FATTY FISH
SEEDS
MUST-HAVES
Almonds
Brazil nuts
Cashews
Peanuts
Pecans
Walnuts
Albacore tuna
(fresh and canned)
Lake troutMackerel
Salmon
Flaxseed
Sunflower seeds
Avocado
Eggs enriched with omega-3
Olive oil