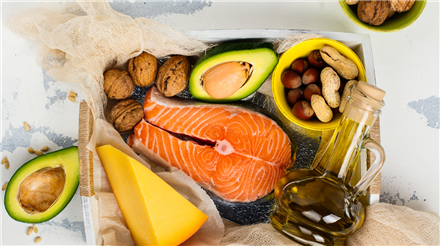 Tips for tracking fat grams


The American Heart Association recommends the following.


Limit dietary fat to no more than 20% to 35% of total daily calories.
Limit saturated fat to less than 10% of daily calories.
Saturated fat typically comes from meat and dairy products. 
Unsaturated fat is found in a variety of oils, fatty fish and most seeds and nuts.

Break down the fat
The percentages are a good place to start, but you need to know how that translates to grams. A person on a 2,000-calorie diet should eat no more than 44 to 78 grams of fat, with less than 22 grams of saturated fat.
One fast-food meal can easily put you over 60 grams of fat. Instead, try consuming the same amount of fat throughout the day over multiple meals or snacks. Here's a sample of what 60 grams of healthy fats looks like.
1/2 avocado
Slice of cheddar cheese
1 hardboiled egg
3 oz. wild sockeye salmon fillet
1/8 cup almonds
2 tablespoons peanut butter
Sources:
Mayo Clinic. "Nutrition and Healthy Eating." Web (last reviewed/updated January 30, 2016).
USDA. "Food Composition Databases." Web (released April 2018).