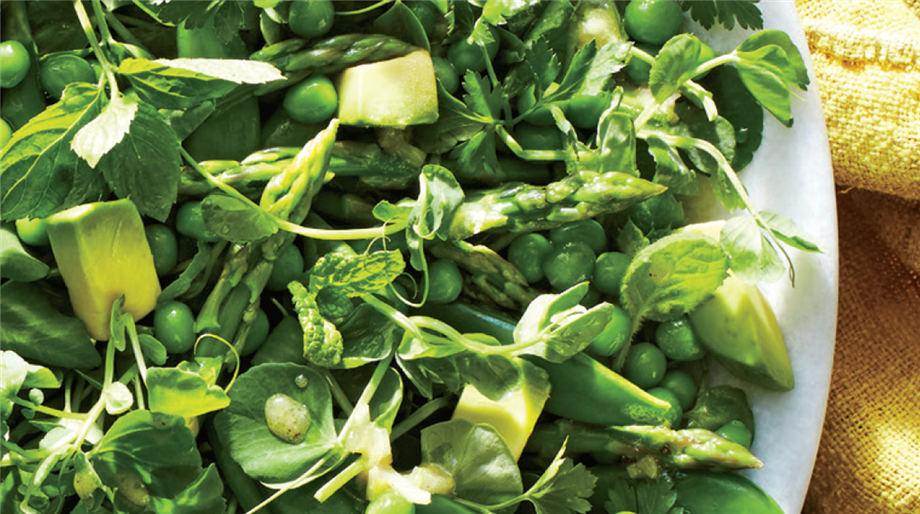 Ingredients:
1 1/ 2 cups frozen green peas
1 pound asparagus, trimmed and cut diagonally into 2 1/ 2-inch pieces (4 cups)
12 ounces sugar snap peas, trimmed (about 4 cups)
3 tablespoons minced shallots › 3 tablespoons extra-virgin olive oil
1 1/ 2 teaspoons grated lemon rind
2 tablespoons fresh lemon juice
1 tablespoon Dijon mustard
3/ 4 teaspoon kosher salt › 1/ 2 teaspoon freshly ground black pepper
4 ounces pea tendrils, pea shoots or watercress (about 5 cups)
1 cup loosely packed fresh flatleaf parsley leaves
1/ 2 cup torn fresh mint leaves › 1 firm, ripe avocado, cubed
How to make it
Bring a large Dutch oven filled with water to a boil over high. Add green peas, asparagus and sugar snap peas; boil until crisptender, about 3 minutes. Drain and rinse well with cold water; drain well.
Whisk together shallots, oil, rind, juice, mustard, salt and pepper in a large bowl. Add blanched vegetables; toss well to coat. Add pea tendrils, parsley leaves, mint leaves and cubed avocado; toss gently to combine.
Nutrition information
Amount per serving:
Calories: 137
Fat: 7.9 g
Saturated fat: 1.1 g
Monounsaturated fat: 5.4 g
Polyunsaturated fat: 0.9 g
Protein: 5 g
Carbohydrate: 14 g
Fiber: 6 g
Cholesterol: 0.0 mg
Iron: 3 mg
Sodium: 251 mg
Calcium: 63 mg
Sugars: 5 g
Est. added sugars: 0 g