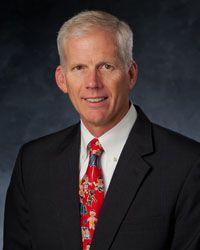 Michael Lunceford was elected to the HISD Board of Education in November 2009, and served as president in 2012. He is a longtime volunteer with HISD, having held leadership positions within the district for the past 17 years. He served on the HISD Bond Oversight Committee, the HISD District V Leadership Team and the HISD Parent Visionaries. He also served on the school building committees for Henry Longfellow Elementary, Pin Oak Middle and John Pershing Middle, and he chaired the Master Plan Building Committee for Paul Horn Elementary School.
Lunceford received a bachelor's degree in petroleum engineering from the University of Texas at Austin in 1981 and is currently the vice president of engineering for Pedernales Energy. He built a career in the field of energy with Mobil Oil, Montex Exploration, Metfuel, and Penwell Energy prior to accepting his current position.
Lunceford's two children attended Horn Elementary and Pershing Middle Schools and are graduates of Bellaire High School. As a parent volunteer, Lunceford served as the Horn Elementary Parent Teacher Organization (PTO) treasurer and auction co-chair. He was also a member of the PTO Auction Committee and the sports Booster Club at Pershing Middle School and the football and volleyball Booster Clubs at Bellaire High School.
A native Texan, Lunceford is a product of HISD schools himself, having attended Ila McNamara and Horace Elrod Elementary Schools, Walter Fondren Middle School, and Westbury High School. He and his wife, Erin, reside in Bellaire and are members of Palmer Memorial Episcopal Church.