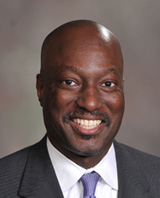 Kenneth "Ken" Huewitt has been a member of the HISD family since December 2001 and was named interim superintendent on March 1, 2016, after the departure of outgoing Superintendent Terry Grier.
Just two days later, on March 3, Huewitt delivered the district's State of the Schools address in front of a sold-out crowd of 2,000 educators, administrators, community members, and public school supporters. He urged the crowd to keep children at the center of everything they do and maintained that all students, no matter their background or personal circumstances, can learn – but they must have the resources they need to be successful.
Huewitt became the district's leader amid a $107 million budget shortfall because of "recapture," which forces districts considered property-wealthy to send money back to the state. He is working with the Board of Education to ensure that schools with the highest concentrations of students living in poverty would receive a larger share of district funding despite the challenges posed by budget reductions. He has also prioritized the use of local tax dollars for day-long prekindergarten for all students, building on a philosophy that emphasizes programs that prevent students from falling behind academically at a young age.
Since taking the helm of the largest school district in Texas, Huewitt has been reaching out to principals and campuses in person to offer support and get feedback on the greatest needs that schools are facing. The initiative dubbed "What's Important Around Here?" is connecting campuses and administration through collaborative meetings, social media and school visits. It was kick-started with a video highlighting one such visit to Sharpstown High School.
Under Huewitt, HISD recently received the Association of School Business Officials International Certificate of Excellence in Financial Reporting for the district's 2014-2015 Comprehensive Annual Financial Report. The award is given to school districts that demonstrate superior accounting practices and reporting procedures. HISD has won the award every year that Huewitt has been with the district.
In November 2015, Huewitt was honored by the Council of Great City Schools with the 2015 Bill Wise Award for distinguished service in urban education. The national honor goes to school-district business officials who distinguish themselves through their dedication to urban education, serving as an example of professionalism, commitment, integrity and leadership.
Huewitt is a certified public accountant, certified internal auditor, certified government financial manager, and certified financial services auditor.
He became the district's controller in 2001. He served as chief financial officer from January 2013 to July 2015. As CFO, he oversaw all financial operations of the district, including the Controller's Office, Budget and Financial Planning, Benefits and Risk Management, Medicaid Finance, Real Estate, Materials Management and Warehousing. He served as deputy superintendent and chief financial officer from July 2015 to March 2016.
In addition to 15 years of experience in public education, Huewitt has more than 10 years of experience in the audit and finance industries. Before coming to HISD, he served as an auditor for the U.S. Department of Housing and Urban Development's Office of Inspector General, a senior audit specialist for the Federal Deposit Insurance Corporation (FDIC), a senior associate for Coopers & Lybrand, and a regional director of finance for The ServiceMaster Corporation.
Huewitt belongs to several professional organizations, including the American Institute of Certified Public Accountants, Texas Society of Certified Public Accountants, and Institute of Internal Auditors. He is a member of Omega Psi Phi Fraternity Inc., and he serves on the Board of Directors for Texas State's alumni association, T-Association, and Development Foundation.
Huewitt is married to Pamela Elder Huewitt, and they have two children, Hunter and Hailey.
"Serving a school district is rewarding work," said Huewitt. "There is no greater cause than public education."
---
Contact:
Kenneth Huewitt
Interim Superintendent of Schools
Houston ISD
4400 West 18th Street
Houston, Texas 77092-8501
Telephone: (713) 556-6300
Fax: (713) 556-6323
Email