Assessment in the IB
Assessment in the MYP
Assessment is integral to all teaching and learning. MYP assessment requires teachers to assess the prescribed subject-group objectives using the assessment criteria for each subject group in each year of the program. In order to provide students with opportunities to achieve at the highest level, MYP teachers develop rigorous tasks that embrace a variety of assessment strategies.
Internal (school-based) summative assessment is part of every MYP unit. Summative assessments are designed to provide evidence for evaluating student achievement using required MYP subject-group specific assessment criteria. Below is an example of the assessment criteria for one subject-group objective: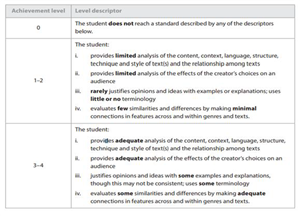 DP/CP Assessment Components
External Assessment (EA) components are assessed by trained IB examiners from around the world. External assessments include the written IB exams taken by the student at the end of a DP course, normally in their second year of the program. In some courses, EAs are performance-based products, such as written assignments and creative portfolios. IB examiners employ specific assessment criteria to measure each piece of work submitted by students.
Internal Assessment (IA) components are evaluated by the subject teacher using a list of criteria developed by IB. IA projects are focused on subject-related work. They take the form of oral work in languages, fieldwork in the human sciences, laboratory work in the natural sciences, investigations in mathematics and artistic performances. Alongside the criteria, samples of student work (oral performances, portfolios, lab reports, and essays) are submitted to the IB for moderation.
Moderation is the process of evaluation of the subject teachers' interpretation and application of the IB assessment criteria for the internal assessment component used by an appointed IB assessor from around the world. Moderation ensures that the IB's reliable global standards are maintained at all IB World Schools. Annual IA feedback is provided to the subject teachers to guide their teaching and evaluation of the IA component.
The IB provides task-specific assessment rubrics for all internally-assessed components. Teachers use the IB IA rubrics to determine the total marks awarded for the component. Total marks awarded from the rubrics is reported to IB.
The most recent Subject Report for the course provides IA marks conversion to a scale of 1 to 7. The 1 to 7 score is converted to an appropriate HISD grade on a 100-point scale for purposes of state graduation requirements. Examples of such conversions are below.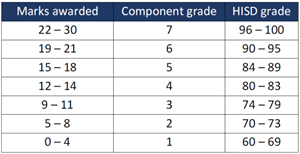 Grading Categories
Preparation Assessments 20%
In flipped learning, students are asked to take responsibility for their learning outside of the classroom prior to the class period. These assignments may include watching videos or tutorials, reading a passage or researching a topic. Students are held accountable for the preparation with a graded assignment.
Minimum of 6 preparation grades per cycle.
Examples: Cornell Notes, open ended responses, short quizzes, online accountability checks such as Blend Space etc.
Formative Assessments 40%
Formative Assessments provide both students and teachers with the information they need to improve the learning process while it's happening. The goal of a formative assessment is to monitor progress toward a goal or objective, providing information in an expedient manner which allows both teachers and students to respond to the academic needs of the students.
Minimum of 6 formative grades per cycle.
Examples: common assessments, practice problems, quizzes, rough drafts, lab reports, in class assignments, notebook checks.
Summative Assessments 40%
Summative assessments assess the mastery of course concepts. Unlike formative assessments, which may occur several times during a course or unit, summative assessments occur only a few times over the course of the academic year. A common goal of this type of evaluation is to measure the mastery of learning standards.
Minimum of 2 summative grades per cycle.
Examples: projects, cumulative tasks, chapter tests, final draft essays, MYP Unit Tasks