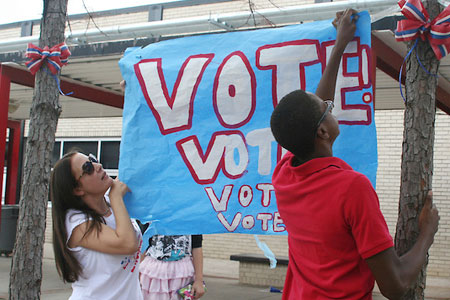 On Nov. 6, 2012, Houston voters by a margin of nearly 2-1 approved a $1.89 billion bond to replace and repair 40 schools across the district, including 29 high schools.

Planning on the new and renovated campuses has already begun with design work slated to begin in 2013 and construction to begin in 2014. The entire project will be spread out over the next six to eight years to help control costs and allow the district to gradually phase in a 4.85-cent property tax rate increase over the next five years.
The bond program also includes work that will benefit students across the district, including $100 million in technology upgrades, $44.7 million to replace regional field houses and improve athletic facilities, $35 million to renovate middle school restrooms and $17.3 million for safety and security improvements.
"When this work is finished, Houston will boast the most modern portfolio of urban high school campuses in America," Superintendent Terry Grier said. "For years, HISD has been a national model for other urban school districts that are striving to simultaneously close the achievement gap while raising the level of achievement of all students, including the highest performers. Thanks to Houston's voters, we will finally have quality campuses to fully support our students' strong academic progress."
Projects funded through the bond program include:
New campuses for 20 high schools: Austin, Bellaire, Davis, DeBakey, Eastwood, Furr, High School for the Performing and Visual Arts, Jordan, Lamar, Lee, Madison, Milby, North Early College, Sam Houston, Sharpstown, South Early College, Sterling, Washington, Worthing and Yates
Partially replacing four high schools: Waltrip, Westbury, Young Men's College Prep Academy, Young Women's College Prep Academy
Renovating four high schools:
Jones,
Kashmere,
Scarborough,
Sharpstown International
Converting five elementary schools to K-8 campuses: Garden Oaks Montessori, Mandarin Chinese Language Immersion School, Pilgrim Academy, Wharton Dual Language School, Wilson Montessori
Building three new elementary campuses:
Askew,
Parker, and r
elief school on the west side
Replacing/completing two middle school campuses: Grady (new addition to complete new campus), Dowling (new campus)
The Board of Education has also agreed to rebuild two schools – Condit Elementary and the High School for Law Enforcement and Criminal Justice – either through the sale of surplus district property or by using any potential leftover bond funds.