TEACHERS, MAKE A WISH!

---

Welcome, Lamar HS Teachers!

The Lamar PTO wants to grant your wish for your class, team, or organization! For all the details on the Teacher Wish List Program click this

link

, where you will find an easy-to-use online application form. You will be able to send any additional documents or photos (if needed) to

Ilse Rassin

. Everything you need to submit your wish is found in this easy online form!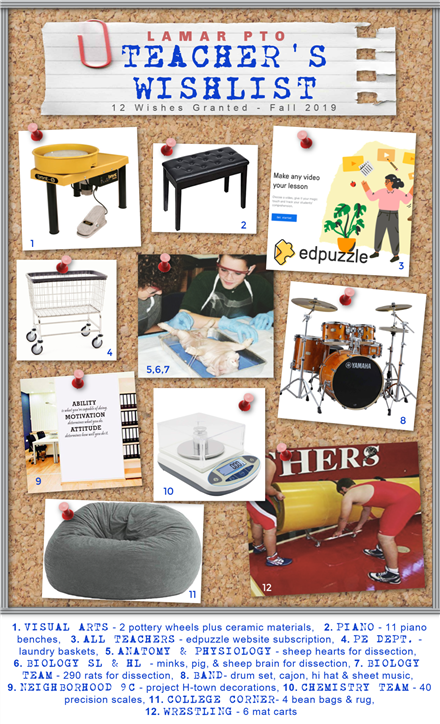 Wish Lists Granted!
Spring 2019

Social Support Library - Autism and Special Needs – Roch-Skeele, Rochelle
Materials to build a Social Support Library that will support compliance with the legal Individualized Education Plan (IEP) for special needs students. The library will consist of Social Stories, Role-Playing and Modeling materials, Video Supports, and Reading Materials supporting social concepts. $1,500.00

Yearbook/Magazines/Principles – Lamar Life – The Republic Yearbook - Smith, Cynthia
Two Wi-fi cameras and batteries so that photographers can immediately send back photos to editors. This will assist the department in meeting deadlines for publications. $1,499.98

Soccer Program – Goolsbee, Zach
Skill training, injury prevention and recovery items for Soccer Girls program.$500

Nursing Department – Dana Makin, RN
New clinic wheelchair because current ones have broken foot or are very rusty. $407.55

Biology Department – Dang, Brian
Visit of the Cockrell Butterfly Center's insects to Lamar to present different arthropods to the biology classes at Lamar and allow the students to handle and observe live specimens. $1050

Culinary Arts, Principles of Human Services – Scholz, Jennifer
Curriculum items for new Career Path: Principles of Human Services. $1,500.00

Physics – Ross, Max
Sine Wave Generator - We do not have this equipment. We will be using the generators for various sound and light wave experiments. $709.50

English Department – Gaido, Lynette
40 copies of Their Eyes Were Watching God by Zora Neal Hurston (classroom set). $588

IB Physics – Rancifer, Janna
Mechanical Wave Driver - These supplies would allow for a multitude of experiments pertaining to the creation of standing waves on a string and sound waves. $709.50

Baseball Program – Garza,Rodney
Variety of safety items and player development equipment. $1,467.56

Media/Technology IB – Gayle, Raymond
Equipment (tripods, monitors, fluorescent lighting, daylight fixtures) needed for film and broadcast production classes so students will have the ability to create professional/broadcast quality content. $500

TOK, IB World Religions, IB Diploma Council Extended Essay and CAS Coordinator – Brahm, Alex
Requesting funding for IB textbooks and study guides for IB exams that would be available to students in Lamar's IB Corner. Teachers can use the texts in the classroom, and students can access the books during tutorials before and after school. $1,000.00

Swim/ Dive/ Water Polo Program –Thomas, Henry
Tumbling or stretching mats for stretching, warm-up, and dryland exercises. Currently exercises are done on the concrete pool deck and this limits the ability to properly stretch and warm up. $1,361.30

Lamar JV Boys Soccer – Rabun, Benjamin
Field and skills training/ game equipment including Select Thor Soccer Balls (2 packs of 10), Sniper Net, Soccer Wall Man (set of 4), Select Pro Level Carry bags to hold soccer balls (quantity 2 that hold 10 balls each). $995.38

Lamar Varsity Boys Soccer – Davidson, Jeremy
Field and Skills training/game equipment including Select Thor soccer balls (2 packs of 10 -$599), Foam rollers (14 total requested $419), Speed Chutes (5 requested $250).$995.37

Fall 2018

SL Biology & Chemistry Lab Equipment - Noble, Tiffany
Lab equipment for biology students and chemistry students that will provide students with lab experience as well as hands on activities to supplement and enhance lessons. $962.85

Whiteboards/Markers/Erasers for SL Economics - Woolweaver, Sally
Whiteboards & markers for an entire class benefit to assist students in becoming proficient in illustrating economic concepts and market force shifts using graphs.$160.00

Circuit Training Pack -Crockett, Debbie (Coach Crockett) and Coaches Hopkins and Malowitz A
variety of equipment to increase activity options for physical education classes $1,099.00

New Jugs Pitching Machine - Crockett, Debbie (Coach Crockettand Coach Tiffany Noble)
New jugs Pitching Machine to be used throughout the Softball Program in order to effectively teach/instruct/model proper bat swing and increase power to hit the ball. $1,399.95

Individual Student Whiteboards - McCannon, Daniel
IB Economics Individual Student Whiteboards Individual whiteboards to assist students in becoming proficient in illustrating economic concepts and market force shifts using graphs.One of the simplest, but most effective tools we have as economic teachers to check for student understanding is a student's personal whiteboard. $50.00

Engineering/Robotics Project Bundle - Cemer, David
Students design and develop engineered 3D-printed products and custom robots. Students will upgrade equipment to the latest technology and keep pace with engineering and robotics standards. 1486.08

Lamar Cable Television/DP Film - Gayle, Raymond
New video equipment that will allow students to create professional, broadcast quality programming. $1468.53

Exploration of the Mammalian Anatomical Features - Nosavanh, LaGina
A variety of mammals purchased for dissection labs that will provide students with the ability to explore the anatomical features of the different mammals and be able to compare the structure and function to the human body. $1500.00

Exploration of the Mammalian Anatomical Features -SL Biology - Dang, Tau
Lab equipment and animals for dissection - This will bridge the learning gap of understanding and applying the IB concepts for SL Biology. $848.40

Exploration of the Aqautic Animals Anatomical Features – Mahendran, Chris
Aquatic animals for dissection will be provided to allow students to explore the anatomical features of the different aquatic animals and be able to compare the structure and function to other aquatic animals. $950.00

Post-It Easels for Project Learning - Bransom, Mary
Large sticky easel pads purchased for English classrooms that will provide an interactive learning experience. These are ESPECIALLY useful in ESL classrooms due to their easy portability and storage, as well as the large space for students to work together and share knowledge. $200.00

Physics Labs - Rancifer, Janna, Balaco, Ross, Rouse, Thomas
20 Standing Wave Generators - Students will be able to conduct wave experiments that allow for hands on visualization of the wave phenomena. $839.50

Daily Physics Instruction - Balaco, Rosa, Thomas, Rancifer, Ross
Lap boards and micrometers for Physics classes- Students will show work daily in class and learn to take precise measurements with updated, state of the art equipment. 694.91

Culinary Teaching Material - Staten, Lexie
DVD's, worksheets and teaching materials that will assist in teaching culinary curriculum and reinforce material already covered throughout the year $317.60

Lamar Choir Pop Show - Hale, Nathan
Music and soundtracks to make annual Spring Pop Show possible for Choir. Without this grant, the show was to be cancelled. Choir is very grateful. $1500.00

ARMY JROTC Equipment - ZAPANTA, KENNETH
Equipment for extracurricular activities - Tailgate tent for sun protection, a spotting scope for the marksmanship team, a dehumidifier to protect equipment and uniforms from moisture, and chrome parade helmets for secondary color guard team. $655.85
Last Modified on December 13, 2019