Cheerleaders Win Double-Header!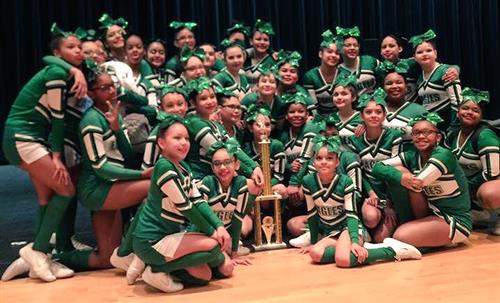 Burbank Middle School Cheerleaders have always been a motivated group of individuals. Led by our very own eighth grade counselor Ms. Takeshia Johnson, they know the meaning of the word commitment. They start their practice in the summer when they attend cheerleading camp and then continue practicing during the school year, often staying past 5 o'clock to get the cheers "just right". They participate in school activities such as Homecoming, Family Nights, and Be a Middle School Student for a Day. They also have the full support of their parents, who not only help them fundraise money for their activities, but also attend their multiple practices and competitions.
On Saturday, January 13, 2018, all their hard work paid off handsomely. The team, their coach, and parents traveled to Prairie View University to participate in the 8th Annual MLK Southern Showdown Competition where they crushed it! They earned 1st Place in the High School Division. Then they got on their bus and traveled back to Houston to participate in the Sterling High School Tournament where they also crushed their competition, winning 1st Place again! Our Amazing Cheerleaders won their Double-Header in great form!
Congratulations to Burbank's All-Star Cheerleaders and their coach! Here is a video of their performance at Sterling High School. Enjoy!
Video by Kerin Gomez
---