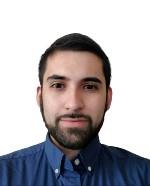 Phone: 713-696-2720
Email:
Degrees and Certifications:
Mr.

Camilo Sanabria

Reading, 7th grade Dual Language Academy

Conference Periods: 2nd and 8th

Mr. Sanabria was born in Colombia, but he has been living in Houston since he was 12 years old.

He went to the University of Houston where he majored in English with a concentration in creative writing. Although this is his first time teaching as a professional, he has been working with children since he became eligible to work at 15 years old. Even though he has tried different working environments, every single time he looked for a job he ended up working with kids. This led him to believe that he is meant to be an educator, and he's truly happy do so.

As is expected of a reading teacher, he loves to read books and write short stories. His favorite literary genre is Magic Realism, but he likes to read pretty much everything. His favorite book is The House of the Spirits by Isabel Allende.

Mr. Sanabria's goal is to transfer his enthusiasm for reading to his students. He will be doing this by encouraging them to think critically and by teaching them how to empathize with the characters in the works they will be reading throughout the year.