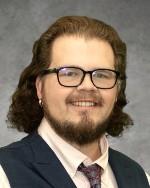 Phone: 713-696-2720
Email:
Degrees and Certifications:
Mr.

Patrick Meroney

Science, 8th Grade Dual Language Academy

Conference Periods: 1A and 5B

Mr. Meroney has lived mostly in the suburbs of Houston since he was in 3rd grade, but has also spent 10 years living on the island in Galveston. However, he says he was grateful to get away from all the tourists and move back to Houston last year. He graduated from Texas A&M University, studying most of his degree in Galveston, but also at College Station, Corpus Christi, and the Dubai campus.

Mr. Meroney says that he did not go to college to become an educator, but rather to become a scientist. At first, he was an environmental compliance inspector, but finding the job to be very boring, he made the transition to teaching and has loved his job ever since. His first two years as a teacher were at Hartman Middle School, but so far he believes that he may have found his forever-school here, at Burbank MS.

Among the many hobbies that he pursues somewhat randomly, he'll spend months painting and then switch to fishing or kayaking. He loves to garden, but for the past decade he hasn't had his own garden, just community ones. Whenever he has any amount of free time, he can generally be found reading a book, fantasy being his favorite genre. He also has two male kitty cats whom he treats as his own children. Their names are Dyson and Lucian. He says that they fight a lot, but that at the end of the day, they are brothers and love each other, just like a good family should.

Mr. Meroney would like his students to know that even though he speaks very little Spanish, he is very eager to learn more and become a fluent Spanish speaker. He is of the opinion that people who can speak more than one language are on average 35% smarter than their monolingual friends, and it bugs him that his own 8th grade students are smarter than himself. 😂 He is looking forward to a great year at Burbank and he is very thankful to be part of the Burbank family.