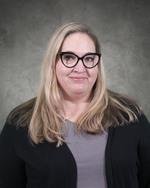 Phone: 713-696-2720
Email:
Degrees and Certifications:
Ms.

Sharon Fry

English Language Arts 8, 8th Grade Vanguard Academy, English Language Arts Department Chair

Conference Periods: 1A and 3B

Ms. Fry has taught at Burbank Middle School since 2001. She has served as a campus leader in various roles throughout her tenure at Burbank which include: cluster leader, grade level lead, instructional excellence coach, Summer School lead teacher, and currently the English Language Arts Department Chair.

She has spent the majority of her teaching career at Burbank; however, she briefly left during the 2006/2007 school year to be the English Language Arts Content Specialist at Kashmere High School. While serving in that position under the leadership of Dr. Charlotte Parker, Ms. Fry learned much, the most important thing being that middle school was her niche, so she came "home" to Burbank as quickly as possible.

Ms. Fry has a Bachelor of Fine Arts in Journalism from Sam Houston State University and worked as a newspaper reporter before becoming an educator. She is certified by the State of Texas in English Language Arts 4-12 and English as a Second Language. She is a member of the International Literacy Association and the Texas Association for the Gifted and Talented. Ms. Fry completed her Masters in Educational Administration at the University of Texas at Arlington in 2020.

Ms. Fry states that she hopes her teaching will instill an appreciation for literature into the hearts of all her students.