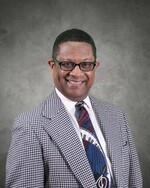 Phone: 713-696-2720
Email:
Degrees and Certifications:
Mr.

Wilford E. Glenn, Jr.

Band Director, Electives Department

Conference Periods: 3A and 1B

Those who know him say that he is dedicated, dependable, and a professional hard worker who is not afraid of difficult tasks. Wilford E. Glenn, Jr., NCTM is the Band Director at Burbank Middle School. Many of his former students from Wesley Elementary and Burbank Middle School have been musically inspired and well equipped for the high school programs. In May 2016, Carolina Marcias, an 8th grade flute student from Burbank Middle School, received the 2016 Mozart Hammond Houston Conservatory of Music Scholarship award for outstanding musical and academic achievements. Eduardo Sierra, a graduate from Waltrip High School, was selected to perform with the Texas All-State 5A Symphonic Band in San Antonio, TX in Feb. 2016. Bryce Wyatt, June 2013, trumpet student, now a graduate student at University of Houston, received Honorable mention in the MTNA Performance Contest in Waco, TX in Nov. 2011. In June 2008, Benjamin Hall, also a trumpet student, a graduate of St. Thomas University, placed second in the TMTA Sr. Performance Contest in Houston, TX. Roderick Littleton, a trombone student, became the first instrumental student in 50 years and the first Afro-American to receive the Whitlock Memorial Scholarship Award for being the most outstanding high school senior in the TMTA State Convention June 2010. Also, in March 2007, Roderick, now a senior at Prairie View A&M University, placed second in the nation as a National Merit Finalist in Toronto, Canada in the Jr. Brass Performance Contest. Under Mr. Glenn's direction in December 2002, Wesley became the first elementary band in history to perform at the Peach Bowl Festival, Parade, and Game in Atlanta, GA.

A 1982 graduate of the University of Tennessee in Knoxville, after moving from Memphis, TN in May of 1983 to Houston, TX, Mr. Glenn organized and founded KRW Piano Studios in September, 1984. In his efforts to enhance the quality of his students, he joined the Houston Music Teachers Association, Texas Music Teachers Association, and the National Music Teachers Association in February, 1994. Wilford also became a member of the Tennessee Music Teachers Association in May 2005.

As a member of HMTA, he has served as the President, President Elect, Second Vice President of Membership, Chairman of the Music Festival, Third Vice President of Student Affiliate, Immediate Past President, Convention Ensemble Director, currently serving as the Certification Chairperson, Performance Contest Monitor, and takes an active role in teaching and promoting music theory in the organization as well as his private studio. Eighty-eight percent of his students are earning medals on the music theory exam. When the opportunity arrived in 2002 for his students to become involved with the events of TMTA, Mr. Glenn was selected to serve as the Concerts and Recitals Coordinator on the Convention Steering Committee. Being involved with the Convention Ensembles, he was also selected to be the High School Repertoire Approval Chairman for the State Ensemble Committee in 2003. He has served on the Nominating Committee, Assistant Convention Ensemble Coordinator and on the TMTA Board of Directors as the Convention Activities Chairman. Recently, Mr. Glenn has served as the Instrumental Performance Chairman from 2013-2015.

While working on a Master's Degree in the College of Education at Texas Southern University, he continued his musical studies in the College of Fine Arts under the direction of Dr. Jane Perkyns. On December 7, 2004, he obtained the National Certification Teacher of Music in Piano. He has also obtained the TEA Texas Music Certification as of Dec. 2008 and the Tennessee Music Certification as of Dec. 2015. Included among his many honors and awards are the 2007 HMTA Teacher of the Year Award; 2006 TMTA/TMTEF Board of Director nominee; 2005 Teacher Service Award and The President's Bravo Award.

His goal is to facilitate an exemplary education for all children and create an environment that will enhance their ability to excel academically and musically while developing good character. His primary goal is to focus on the Texas Education Agency.

Teachers who want to teach music in the public classroom will be given the opportunity to share with students the joy of music. The plan will be to assist teachers in the certification process of TEA along with MTNA certification.