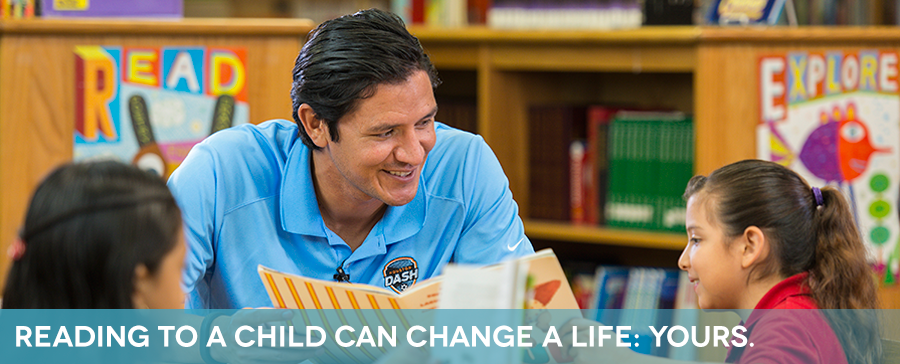 Read Houston Read
Read to a child! It is one of the most important things that you can do to positively impact their future. Yet for hundreds of HISD students, there is no one to read to them, no one to listen to them read and no one to reinforce what they are learning in class while outside of school.

Read Houston Read (RHR) is a volunteer program designed to support HISD's Literacy By 3 initiative, which aims to have all students reading on level by the end of 3rd grade. Aligned with the community to avert Houston's literacy crisis, Read Houston Read volunteers help students develop a love for reading through the magic of books.

Materials are provided in partnership with the Children's Museum Houston (CMH) and are vetted to complement what students are learning in class. Using a proven system, volunteers lead students through activities that assist in building fluency, comprehension, phonics, and spelling skills.

Read Houston Read volunteers mentor two 1st grade students per session as follow:

READ ALOUD SESSION:

Share an adventure reading a book to the students

Participate in a fun activity that directly relates to the story

Encourage students to read as you listen to them share their own book

Working with the same students throughout the school year, volunteers can make a real difference in the life of a child. As mentors, volunteers have the power to build relationships that make lasting impressions on students' self-esteem, ability to learn, and ultimate success.

Become a Read Houston Read mentor and motive family, friends, and neighbors to join you in eradicating illiteracy in Houston - one book at a time!

Visit the Barbara Bush Houston Literacy Foundation (BBHLF) Connect4Literacy website to see a list of participating HISD schools.
Volunteer voices
"The joy of reading opens up your mind to new experiences. It was a pleasure!"

"They are the greatest asset and all they need is love and support!"


"It's been an amazing experience, and I have really, really loved doing it."

"I saw [my student's] improvement and what a good feeling! Love this program."

"It was awesome seeing our enthusiastic students as they joined us for a morning read."

"I look forward to volunteering Tuesdays and listening to them laugh out loud!"

"I volunteer with Read Houston Read from my desk [virtual tutoring]. It's easy!"

"Hola Ashley y Neftali de Berry! Me gustó mucho leer con ustedes!"

"I wanted to EMPOWER our youth!! What an awesome experience!"

"I just felt like I wanted to make an impact in at least one child's life."
Sign Up to Volunteer!
STEP 1: Complete the VIPS, Volunteers in Public Schools, Volunteer Orientation Training online in English or in Spanish.

STEP 2: Read the VIPS Volunteer Handbook and Save/Print the Certificate of Completion for future reference.

STEP 3: Complete the VIPS Volunteer Application, agree to the Annual Background Check, and review the required documents (Code of Ethics, Code of Civility, Confidentiality Statement).

When completing the VIPS application please be sure to note your organization and select Read Houston Read as one of the programs you plan to support.

STEP 4: Wait 3-5 business days for the Background Check to process. Volunteers receive a confirmation of receipt upon submission and an approval or denial reply from donotreply@raptortech.com when completed.

STEP 5: Optional: Create a personal Raptor Portal Volunteer Account for the ability to track volunteer hours.

STEP 6: Once VIPS APPROVED, register for opportunities to volunteer using the BBHLF's Connect4Literacy website.

Note: Volunteers must use the same email address for the VIPS (Raptor) & Connect4Literacy to link the required background check to both platforms.
Houston Independent School District

CONTACT US:

Lindsey Brewer-Munoz, MLS

Library Services Specialist

Lindsey.BrewerMunoz@houstonisd.org