Welcome to the Interventions Office
The Interventions Office works with other departments within the Office of Special Populations to ensure that the needs of struggling students are met as well as the needs of the campuses and parents that support them. The Interventions Office also collaborates with groups across the district to share knowledge, support students and schools, and promote best practices around interventions.

The Interventions Office:

Provides professional development and support for various intervention resources
Supports campuses by assisting with the tiering of students for the RtI/ IAT process
Supports campuses by assisting with planning and advising on intervention class scheduling and student placement
Supports campuses and leaders by advising schools on intervention related issues (Designated Supports, Universal Screener, RtI/ IAT, etc.)
Supports campuses by assisting with the IAT process (identification, meeting, progress monitoring)
Supports campuses and teachers by assisting with the planning of intervention lessons
Investigates and recommends intervention related resources based on campus/ district needs
Designs intervention class frameworks to accompany available resources (Corrective Reading, Read to Achieve, Strategic Reading and Writing)
Designs intervention lessons for virtual student support

If you have questions or concerns related to interventions in Houston Independent School District, contact a member of the Interventions Office by clicking here or email HISDInterventionsOffice@houstonisd.org.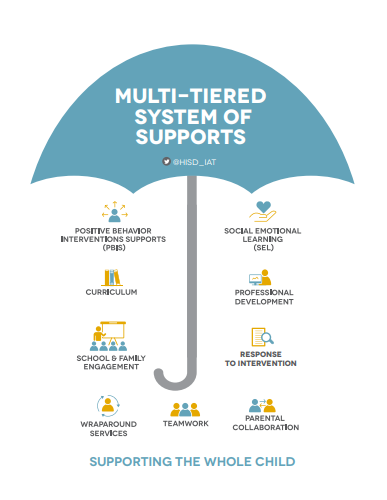 Officer
Dr. Khechara Bradford

Director
Stacey Court

Houston ISD
Interventions Office
4400 West 18th Street
Houston, TX 77092

Telephone: 713-556-7122
Fax: 713-556-6814