Todd E. Berry: April 2013 Employee of the Month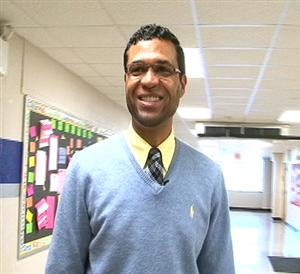 Todd E. Berry, Employee of the Month for April, is the magnet coordinator at Williams Middle School, a position he has held for the past two years. He first came to the district in April 2008, when he was hired as a Special Education inclusion teacher at that same campus. Before that, Berry worked as a successful music producer and managed his own record label, earning more than half a dozen awards for producing gold or platinum albums.
As his school's magnet coordinator, Berry's primary responsibilities include ensuring that the campus has the appropriate staff to deliver its specialized course offerings and recruiting fifth-graders from local elementary schools by giving presentations, conducting school tours, and sharing information with students and their families. He has been a member of both his school's Shared Decision-Making Committee and HISD's District Advisory Committee, and he also serves as the sixth-grade administrator, providing support to the assistant principal.
A native Houstonian, Berry grew up in the Acres Homes area and earned his bachelor's degree in political science from the University of Houston. He lives in Houston with his wife of ten years, Deidre, and their three-year-old son. When not working, Berry enjoys taking photographs, making music, and tinkering with old cars.
"Todd Berry is a hard worker who is truly committed to the community and the students," says Williams Middle School Principal Corey Seymour. "He is always seeking grants and donations to help out the program. I can't say enough good things about him."
"I have known Mr. Berry for several years and have seen how dedicated he is," adds retired Acres Homes resident Annie Wilson-Spurlock. "He sought funds to put books in the library, personally bought drums for the band, and was instrumental in getting robotics for the advanced students last year. He is a shining vision of hope for those with a dim light."
"Mr. Berry has a true gift for building relationships with students," says Dean of Students Inge Garibaldi. "It's unlike anything that I have observed before. He joined our staff about four years ago at around this time of year, so he only spent about two months with the students before the summer break began. But before the school year ended, at least half of the school had fallen in love with him. It was as if he had been here all school year."