HISD Students Earn Prestigious International Baccalaureate diplomas
International Baccalaureate program sharpens problem-solving and critical-thinking skills and prepares students for college
January 30, 2012
More than 100 HISD students received International Baccalaureate (IB) diplomas this month after completing the rigorous program that teaches students to think critically and globally.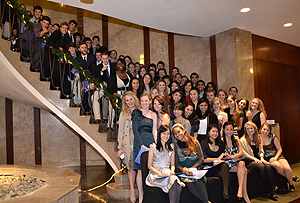 Lamar High School presented 104 International Baccalaureate (IB) diplomas to 2011 graduates at a special awards ceremony held at the Houston Club.
Both Lamar and Bellaire high schools have successful IB programs. Lamar High School recently presented 104 International Baccalaureate diplomas to Class of 2011 graduates at a special awards ceremony. A similar ceremony was held for 26 Bellaire High School Students who earned IB diplomas. The students graduated last June, but the IB diplomas are not conferred until late in the summer.
HISD Superintendent Terry Grier believes the program is important because it creates college-ready students who understand global issues.
"We are part of a global economy," he said. "Our schools must prepare students to compete and thrive in a global marketplace."
IB high school students study a range of advanced, college-level courses, which include English, foreign language, social sciences, experimental sciences, mathematics, and fine arts. The program sharpens problem-solving and critical-thinking skills and prepares students for college.
Lamar High School IB Diploma Coordinator Jon Mallam said the program teaches students to become active learners and engaged global citizens.
"The curriculum is designed with input from professional educators around the world," Mallam said. "It's truly an international education."
Students who participate in the program conduct independent research and in-depth study. They also critically examine different ways of knowing (perception, emotion, language, and reason) and different kinds of knowledge (scientific, artistic, mathematical, and historical) through Theory of Knowledge, the signature course of the IB Diploma Program. Students are also required to perform 150 hours of community service.
Lamar's IB Diploma program is the largest in Texas and one of the top 10 IB Diploma programs in the United States. Mallam credited the school's success to dedicated teachers and a large population of students who completed middle school IB programs. Students who earn an IB diploma in Texas and go on to a Texas pubic college will be awarded a minimum of 24 hours of college credit, which is an added incentive for many students, Mallam said.
Currently, HISD has four elementary, one middle and two high schools that are authorized IB schools, and approximately six HISD middle schools and two elementary campuses are in the candidacy phase. HISD School Improvement Officer Esti Arriaga said many others are interested in what IB can offer their students.
"IB offers students a great opportunity to learn in a unique and effective way," Arriaga said."The perspective that students gain from IB will benefit them in our ever-changing and globalizing infrastructure. We are very proud that additional HISD schools are going through the process of becoming IB authorized."