Board Celebrates HISD's Living Legends in Honor of Black History Month
Trustee Larry Marshall and two retired administrators—Faye Bryant and Felix Cook—recognized
February 10, 2012
The HISD Board of Education recognized three "living legends" from the Houston Independent School District at its regular monthly meeting in observance of Black History Month.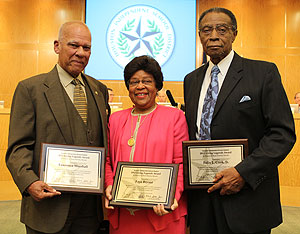 The HISD Board of Education recognized "living legends" Lawrence Marshall, Faye Bryant, and Felix Cook (L–R) during its regular monthly meeting on Feb. 9 for their many contributions to public education.
The honorees were Faye Bryant, Felix Cook, and Lawrence Marshall.
• Faye Bryant is a native Houstonian and a graduate of Wheatley High School. She taught or served as a counselor at both Booker T. Washington and Bellaire high schools, and she was very involved in the district's first Magnet programs as part of the district's desegregation efforts. After serving in a number of administrative positions, including acting superintendent, she retired from HISD in 2002 with 42 years of service.
• Felix Y. Cook was a teacher and administrator at HISD for 36 years, starting in the 1940s. He served as a teacher and coach at E. O. Smith Junior High and Phillis Wheatley High School and as the principal of Sharpstown High School. Cook also served for 12 years as a deputy superintendent. HISD named a school for him in 2006 on the site of the old James Sanderson Elementary School.
• Lawrence Marshall joined the district as a teacher in 1955 and subsequently served as a principal, area superintendent, assistant superintendent, associate superintendent, and deputy superintendent before retiring in 1991. He was first elected to the Board of Education in 1997, and has served as assistant secretary, first vice president, and president. He was re-elected in 2009 and continues to represent District IX today.
A choir of students from the Energized for STEM Academy recited a list of each honoree's achievements and then sang a song selected especially for him or her to express the district's gratitude.
Black History Month runs through Feb. 29.
Click here to see a photo gallery of the honorees.