School was originally built in 1901 and became a part of HISD in 1936
February 22, 2012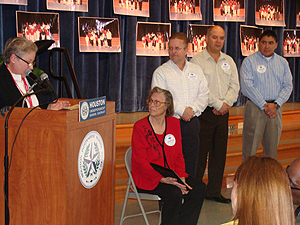 Honorees at the Almeda ES ribbon cutting ceremony.
Rose Lynn "Sis" Andrews, an Almeda Elementary alumna from 1940, took the stage at the official dedication ceremony for Almeda Elementary on Feb. 16 to share some of the school's history, including pictures of two former school buildings from the early 1900s and quotes from her book, Back Yonder in Almeda, Texas, which prominently features the school and its original teaching staff.
She was among hundreds of students, parents, staff and community members gathered for the special dedicatory ceremony, including HISD Board of Education Trustee Larry Marshall, HISD School Improvement Officer Karla Loria and Texas State Representative Alma Allen. Dr. Allen took the opportunity to recognize Principal Beverly Cage for her commitment to students and education by presenting to her a Texas flag flown over the capital and a special tome in recognition of her leadership, entitled Whispers of Encouragement.
"It's very challenging to move an entire school community, and it's our principals who are on the front lines," said Allen, who also donated several books to the school library, including the children's classic, Curious George. "When you have a building with this much new and advanced technology in it, the children will be curious."
Also in attendance were former Almeda principals Nancy Nichols and Mary Schlett, and former student Ellarine Hughes, who attended the school in the 40s and spent 23 years on staff.
Principal Cage recognized Sis Andrews as well as corporate volunteer partners John Hoffman, plant manager at Akzo Nobel; and Chris Gonzales, plant manager at Champion Technologies; for their dedication and service to the parents, teachers, and students of Almeda. Each volunteer received the school's inaugural "Friends of Almeda" award.
Almeda Elementary was named after the daughter of one of the founders of Almeda, Texas. The school was built in 1901 and became part of HISD in 1936.