Frost ES Dedication Ceremony Celebrates Milestones
Technologically advanced campus features computer lab, Smart Boards in all classrooms
February 28, 2012
For parents, staff and students at Frost Elementary School, this academic year has been one of many milestones – growth in enrollment, academic achievement and now a new campus.
Houston Independent School District Board of Education trustees Larry Marshall and Paula Harris joined the Frost community for the official dedicatory service on Thursday, February 23.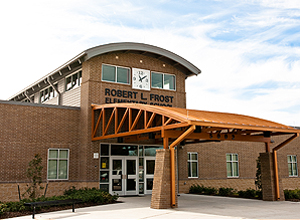 The exterior of Frost Elementary School.
"None of this could have occurred without the parents and community who voted for the bond program," Trustee Marshall said as he commended the HISD facilities team for their hard work. "The support of this community has been integral for the success of this bond program to provide modern, healthy, technologically advanced campuses for the district's students."
The new Frost campus was built thanks to the $805 million bond referendum approved by voters in 2007. This campus, built to Leadership in Energy and Environmental Design (LEED) standards, features new science labs, a library, a computer lab and Smart Board technology in all the classrooms.
"The growth at Frost has been phenomenal," Trustee Harris said as she congratulated the teachers at Frost for their improvement in overall academic performance. "It's not just growth in numbers, but growth in academic achievement too. We are very proud of this campus and it's truly a pleasure to be a part of this celebration."
Principal David Terrell thanked the Frost parents, volunteers and the community for their support and commitment to the school's success and vital foundation. State Representative Alma Allen presented Terrell with a Texas flag, flown over the state capitol, and an inscribed book for the school's library, Our Enduring Spirit: President Barack Obama's First Words to America, in honor of Black History Month and the occasion of the school's dedication.
The Robert Frost Farm Museum in Derry, New Hampshire, donated books to the school's library, with an inscription in each title "If Mr. Frost were living and knew of this new school, he would love to send you this box of books, as a gift from him."