Colorful murals, seating area turn a formerly plain hallway and bookroom into "Bobcat College Corner"
March 28, 2012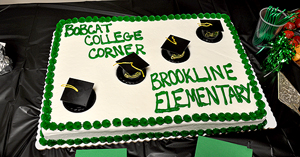 Students at HISD's Brookline Elementary School might not have known that bilingual teacher Sarah Salazar once played women's basketball at Concordia University in Wisconsin or that fifth-grade teacher Ashley Keener originally studied advertising at the University of Oklahoma, but they do now.
The children learned where Salazar, Keener, and four other teachers pursued their college dreams when the campus completed its latest effort to get students thinking about higher education last month.
The school's new "Bobcat College Corner" was unveiled during a special ceremony on Feb. 27, and this formerly unremarkable section of the school's hallway now features a series of colorful murals painted by local artist Tara Bradley—including one of the school's mascot holding a bulletin board with the teachers' profiles in its claws.

Principal Michelle Cloud designed the area, which includes an adjacent former bookroom, on the basis of a suggestion from her School Improvement Officer Kimberly Fonteno.
"The idea is to create an atmosphere of college and career readiness," explained Dr. Cloud. "We hoped this comfortable seating area would reflect recreation rooms that can be found in many college dorms. Our fifth-graders will have the opportunity to use instructional resources there to build academic and leadership skills, and it will also provide an area for student- and/or teacher-led seminars."
The profiles on the bulletin board will also be changed periodically to highlight different teachers.