Early Act First Knight teaches students tolerance, honesty, and other noble virtues through fun activities
March 29, 2012
Students are becoming pages, squires, and knights at HISD's Love Elementary School through a program designed to teach integrity and nine other ethical values to school-age children.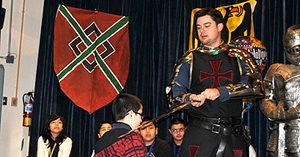 Love ES fifth-grader Alfredo Guijarro is knighted for demonstrating tolerance through his actions by EAFK representative "Sir Cass" Garcia during a ceremony held on Jan. 31.
Principal Robert Chavarria brought a research-based character education program dubbed "Early Act First Knight" (EAFK) to his campus this January, and its activities all play on the theme of gallant knights, chivalry, and service beyond oneself.
The program is based on the premise that most people's character is already formed by the time they reach adolescence. EAFK aims to instill traits such as integrity, compassion, and honesty in children while they are still young enough to be impressionable.
Students in kindergarten through Grade 8 can earn particular "ranks" by demonstrating understanding of various concepts through their actions, and titles are conferred upon them at knighting ceremonies that take place throughout the year.
"The goal is to help students grow up to be not only college- and career-ready, but to be able to make the right choices in any situation they may encounter," said Chavarria. "In today's society, we acknowledge outstanding academics and athletes. This program gives us the opportunity to acknowledge students for making good decisions."
Love is the first school in HISD to implement the program, which is being graciously underwritten by the Heights area Rotary Club.
The school will host its "Knight in Training" spectacular—featuring real horses, jousting, and other exciting activities and demonstrations—at 1 p.m. on April 16.