All will head to Carnegie Hall in NYC on June 1 as Scholastic Gold Key Award winners
March 30, 2012
Six students from HISD schools have been recognized at the national level this spring through the Scholastic Art & Writing Awards.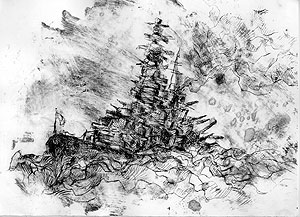 Above is a piece from the Silver Key Award-winning art portfolio submitted by HSPVA senior Justine Ditto to the Scholastic competition. Justine was the only HISD art student to win a national award.
In writing, Bellaire High School's Zara Khan and Katherine Fang, along with T.H. Rogers' Victoria Songyang and Liana Wang, won Gold Key Awards, while DeBakey High School for Health Professions' Vee Duong won a Silver Key Award. Zara was also named an "American Voices" Award-winner, which is the equivalent of a "Best in Show" designation.
In art, Justine Ditto from the High School for the Performing and Visual Arts was named a Silver Key Award-winner for her portfolio.
Only 41 students in Harris County earned awards at the national level of this competition, which is sponsored regionally by the Harris County Department of Education.
All six students will be honored at a ceremony on June 1 at Carnegie Hall in New York City, and the Empire State Building will be lit in gold on May 31 in their honor.
The 1,600 national winners of 2012 join the ranks of some of the nation's famous artists and writers who received Scholastic Art & Writing Awards in high school. Past winners include Robert Redford, Andy Warhol, Truman Capote, John Lithgow, Joyce Carol Oates, and Sylvia Plath.
Students submit the regional Scholastic Art & Writing Awards art and writing entries through their teachers.