The BigFuture website will serve as a nationwide resource for students, counselors, teachers, and parents
April 20, 2012
The Houston Independent School District has been selected as the first school district to work with the College Board to create forthcoming videos to be included on the BigFuture college planning website.
The announcement was made today at Sam Houston Math, Science, and Technology Center.
BigFuture, a free comprehensive website, will serve as a nationwide resource for students, counselors, teachers, and parents seeking information about preparing for, applying to, and paying for college. BigFuture features interactive tools and information to help make the college planning process simpler and more accessible, especially for first-generation college students.
HISD was selected because of its efforts and initiatives to increase student participation in college readiness programs. Although students from Sam Houston Math, Science, and Technology Center created the interactive videos and personalized actions plans that will be featured on the website, this is a district-wide initiative.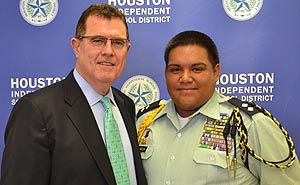 HISD Superintendent, Terry Grier believes all students should have access to a resource such as BigFuture that engage and feature their peers.
"It's important for students to take away the knowledge that their future is BIG and deciding their future is a process in which they should be actively involved," said Dr. Grier. "HISD's increased involvement in programs such as BigFuture is indicative of the hard work that our campus administrators, teachers, and students put into these challenging programs."
An advisory group representing a broad cross section of educators from higher education and K-12 guided the collaboration that created BigFuture. The website is an important component of the College Board's effort toward reaching its goal of ensuring that at least 55 percent of Americans have a college degree by 2025.
"The College Board applauds the educators, parents and students of the Houston Independent School District who together are creating a powerful college-going culture in their schools," said College Board President Gaston Caperton. "Today's event, which will spread the word about this free, comprehensive resource for students everywhere, is just one example of their commitment to helping all students achieve college success."
BigFuture replaces the College Board's previous college planning website which was a trusted resource and one of the most highly trafficked college planning websites available, used by more than 6 million students and parents each month.
For more information, visit http://bigfuture.org.