HISD employees, students wear their favorite college T-shirts on May 4
April 18, 2012
GenTX Day returned to the Lone Star State for its second year on May 4, 2012, and HISD students and employees across the district showed their support by wearing their favorite college T-shirts to school and work that day.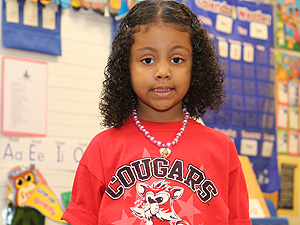 Click on the photo to see more GenTX photos in the HISD news blog.
Generation TX (pronounced "Generation Texas") is a statewide movement supported by the Texas Higher Education Coordinating Board that is focused on building a college-going and career-ready culture.
Last year, Generation TX held its first statewide GenTX Day celebrating the achievements of Texas students, especially graduating seniors who are continuing their education beyond high school.
To learn more about GenTX Day, visit http://gentx.org/gentxday.
Send photos of your shirt to hisdphotos@yahoo.com