Eighteen campuses use small Meadows Foundation grants to make a difference in their communities
April 17, 2012
Eighth-grader Anastasia Kindle wasn't planning to be a role model when she visited nearby Kashmere Gardens Elementary School earlier this year.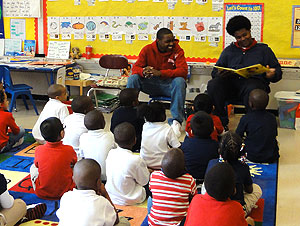 A Fleming Middle School eighth-grader reads to students at Kashmere Gardens Elementary School as part of a community service project funded by The Meadows Foundation.
But that's precisely what the Fleming Middle School student became after she spent several class periods reading to younger children as part of a community service project funded by The Meadows Foundation.
"I was able to show them that even as eighth-graders, we still read books," said Anastasia, "and we care enough about them to go and read to them. I had fun. It felt really good."
Almost 20 HISD campuses have received $500 grants through that organization's Charitable Schools Program, which strives to encourage volunteerism and develop leadership skills among young people.
More than half of the grant recipients this academic year are middle schools, and Fleming used its money to purchase books for 12 different classrooms at Kashmere Gardens, as well as a donation to the campus library.
"Making the transition from elementary to middle school can quite daunting," explained Fleming Principal Sabrina Cuby-King. "But if we build relationships early on, that can make it something the younger children look forward to."
Cuby-King said her goal was to create something similar to the Big Brothers Big Sisters program, in which older students forge meaningful connections with younger children, then act as mentors for years afterwards. "We wanted to show our students as role models, and give the younger ones something to aspire to."
"Once students realize they can make a difference in their communities by solving complex issues in a meaningful way," added HISD's Lead Manager of Counseling Services Nefertari Mundy, "they become empowered to continually seek ways they can make positive contributions. The benefits are long-lasting and life-changing for everyone involved."
Other Meadows-funded projects at the middle-school level involve campus beautification efforts (Grady and Clifton MS), fundraisers to benefit stray animals (Pershing MS) and supplies for the homeless (Hogg MS, The Rice School). Pershing and Hogg's efforts were mentioned in the March 9 and April 6 editions of Friday eNews, respectively.
High-school projects have included a blood drive (Sharpstown International), care packages for Star of Hope shelter residents (DeBakey), and a Thanksgiving meal for the community (Worthing HS), the last of which was featured online in November.