HISD Graduate Appointed as Commander of Texas A&M University's Corp of Cadets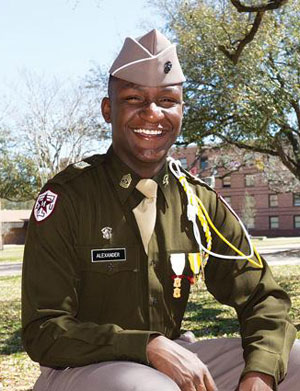 Marquis Alexander, a 2007 graduate of HISD's Barbara Jordan High School for Careers, has been selected as the commander for the 2012-2013 Texas A&M University's Corps of Cadets. It's the first time in the university's 136 year history that an African-American student will assume this prestigious position.
As commander, Alexander, 22, will represent the university and will voice the cadets' concerns to administrators. He will also help establish policies and initiatives for the corps.
"To be the corps commander in charge of more than 2,300 cadets and the voice for this group is the highlight of my college career and probably my life thus far," said Alexander.
Alexander graduated from HISD's Barbara Jordan High School for Careers in 2007 in the top 10 percent of his senior class. After graduation, he enlisted in the U.S. Marine Corps before enrolling at Texas A&M.
He says his instructors at Barbara Jordan helped guide him down the path to success. "I had an amazing counselor, AP teachers, and ROTC instructors, particularly First Sgt. Michael Anderson, who was the driving force that sent me to Texas A&M for the first time."
Upon graduating from Texas A & M University, Alexander wants to pursue a career in military law or in Homeland Security.
Nearly 10 percent of the incoming African American freshmen accepted for admission into Texas A&M for the upcoming school year are from HISD schools, according to the university.