Cunningham Elementary School Officially Dedicates New Facility
New school built to LEED standards, uses 35% less water and 25% less energy than regular campuses
May 24, 2012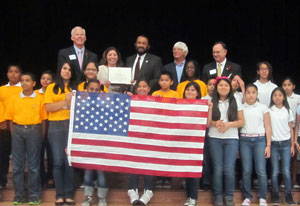 Click the photo above to see more photos of the dedication.
Parents, community volunteers, and elected officials celebrated the opening of a brand new facility for Cunningham Elementary School (5100 Gulfton, 77081) at the official dedication ceremony for the building on May 23.
"We are striving for all students to have a school like this," said Board of Education President Michael Lunceford. "It will take us some time, but we'll get there."
Lunceford also extended a personal thanks to Jeff Bricker of the architectural firm Page Southerland Page for partnering with the Cunningham staff and parents during the construction process.
Guests were treated to performances by Cunningham's second-grade choir and a classical quintet from Bellaire High School under the direction of Dr. Kathryn Brown.
Special guests included Condit Elementary School Principal Fred Bowyer, Houston City Councilman Mike Laster (District J), Sylvan Rodriguez Elementary School Principal Elena Martinez-Buley, Texas State Representative Scott Hochberg, and United States Representative Al Green, who presented a flag flown over the U.S. Capitol for use at the school.
"On behalf of Mayor Parker, Controller Green, and the entire City Council, we want to offer sincere congratulations on your new campus," said Laster, who recognized Representative Hochberg for his commitment to education for all Texas school children.
Hochberg, a frequent visitor to the previous Cunningham campus, will retire after serving his current term, but promised to return as a Cunningham volunteer. "You now have a facility that lives up to the quality of its teachers, and the instruction," he said.
The new Cunningham campus is built to Leadership in Energy and Environmental Design (LEED) standards, and uses 35 percent less water, and 25 percent less energy than a non-LEED campus. Every classroom or learning space has at least one window, and in the summer, students and teachers will benefit from a reflective roof that will help reduce the building's heat retention and allow for more effective cooling of the facility.