Field Elementary Named 'Project Fit America' Campus
HISD, Memorial Hermann, General Electric team up with national charity to promote fitness
May 25, 2012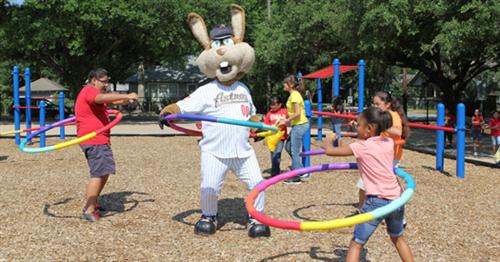 Some students had a chance to hula hoop with Houston Astros mascot Junction Jack.
Staff members at Field Elementary now have a new tool in their efforts to promote the importance of physical fitness to students, parents, and the community surrounding the Heights campus. At a ribbon cutting on May 16, representatives from Memorial Hermann, General Electric and Project Fit America (PFA) joined Board Trustee Anna Eastman to unveil $30,000 worth of new outdoor fitness equipment on the campus.
Students at the school immediately put the state-of-the-art equipment to the test, giving it rave reviews. Some even had a chance to take part in a hula hoop contest with Houston Astros mascot Junction Jack. "The kids are having so much fun today, I don't even think they realize they are exercising and getting healthy and fit," said Field Principal John Hendrickson. "We are so grateful for this donation to our campus and our community."
In addition to testing out the new equipment, students and staff also celebrated the school's new designation as an official PFA Model School. As part of the designation, the school will receive a health and fitness curriculum designed with fitness games and challenges that utilize the new equipment. Field staff will also receive onsite training and classroom instruction to educate students on subjects such as nutrition and understanding their body. The Memorial Hermann Healthcare System and General Electric are helping to underwrite the cost of the program with PFA, a national charity dedicated to combating childhood obesity.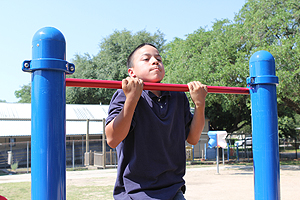 Students at Field ES immediately put the state-of-the-art equipment to the test, giving it rave reviews.
"More than 60 percent of American children get no physical activity outside the school day, which is why we applaud Memorial Hermann and General Electric for taking this leadership role to help kids in schools become more fit and healthy," said PFA's Executive Director, Stacey Cook.
Since 1980, childhood obesity has tripled according to the U.S. Surgeon General's Report. In response to this alarming trend, PFA formed in 1990 as a nonprofit organization to donate PE equipment and programs to schools to create new opportunities for children to be active, fit and healthy as part of their everyday school experience. In 22 years, PFA has donated equipment to more than 800 schools in 300 cities, partnering with mostly hospitals to establish model school programs.