Grad Labs Help Students Earn Their Diplomas
More than 6,000 course credits completed in Grad Labs during 2011-2012 school year
May 31, 2012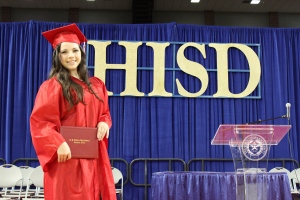 Rebecca Babb, who graduated from Waltrip High School on Sunday, credits her school's Grad Lab with helping her to receive her diploma with her class.
On Memorial Day weekend, when her family was gathered around the grill, Rebecca Babb was at work on the computer.
The Waltrip High School senior was determined to finish the only course standing between her and graduation. "I told my mom, 'I am going to try, I am going to see what I can do,'" Rebecca said.
Rebecca knew the stakes: Pass the online math class and walk the stage or fail and report to summer school. She had already failed Algebra II twice and Waltrip Graduation Coach Brett Rusnock identified the online class as an option that, if successfully completed, would allow her to graduate with her class.
"Rebecca came to me," Rusnock, who works in the school's Grad Lab, said. "She wasn't looking for a bailout. She wasn't looking for somebody to take pity on her and scribble a number. She was looking for someone to help her graduate."
There's a Grad Lab in every comprehensive HISD high school. The computer labs allow students like Rebecca to recover course credits and work at their own pace. During the 2011-2012 school year, more than 6,000 course credits have been completed in Grad Labs.
"I see how challenging the work is," Rusnock said. "There is a lot of writing and analyzing, and a lot of applications."
Rebecca reported that she has passed all her quizzes and tests and expects to graduate.
"You really can do some of the things that you never thought you could," she said.
And while she may have missed one family barbecue, she's already planning another one—to celebrate her graduation.
"I just can't wait until they call my name and I walk up, grab my diploma, and scream 'Hallelujah.'"