Ministers Against Crime, Police Join Forces for 22nd Annual Project Safe Start
Parents reminded to obey school zone signs, help their children understand district rules and regulations
August 29, 2012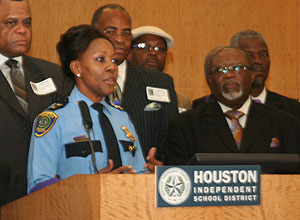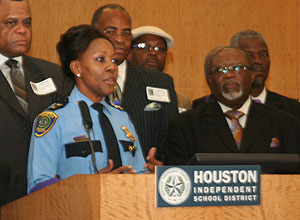 Assistant Houston Police Chief Mattie Provost reminds parents not to talk on the phone or text while driving, particularly in school zones, at a press conference held Aug. 23 for the annual launch of Project Safe Start.
With students returning to school across the district this week, administrators wanted to ensure a safe, smooth transition. That's why members of HISD's police department joined forces with representatives from other law enforcement agencies and Ministers Against Crime for the launch of Project Safe Start.
Now in its 22nd year, this annual initiative's purpose is to keep students safe both as they begin their summer vacation and as they return to school in the fall.
"We just want to remind parents to observe and obey the school zone signs," said Assistant Houston Police Chief Mattie Provost. "Don't talk on the phone and don't text when you're driving. We love our kids and want to protect them."
HISD Police Chief Jimmy Dotson also urged parents to be careful around school buses when they were loading or unloading, and asked citizens to "be an extra set of eyes" for officers in policing the neighborhoods surrounding district schools. &"Call us if you see anything suspicious," he said. "Our number is 713-892-7777."