2012 Real Men Read 'MENtor' Roster Features All-Star Lineup
HISD's Real Mean Read program recently kicked off its fourth full year of providing positive male role models to students in grades 2, 5, and 7, and this year's roster features an all-star lineup of reading "MENtors."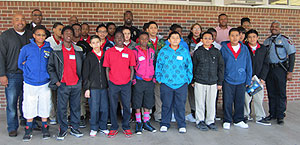 Real Real Men Read MENtors pose with students at Dowling MS after the first reading session on Nov. 15.
Students at HISD's Dowling Middle School heard from former Chicago Bears defensive lineman Anthony Oakley and Major League Baseball umpire Adrian Johnson during the first reading on Nov. 15, while children at Scroggins Elementary School heard from professional children's book illustrator Bill Meganhardt, and pupils at Longfellow Elementary School heard from W. Scott Harbison, the pastor at St. Luke's Presbyterian Church.
"When someone children look up to takes time out to come read to them, it really makes a statement about how important literacy is, and students will be that much more inclined to emulate their behaviors," said Library Services Manager Liz Phillipi.
Currently, HISD has more than 700 MENtors who will be reading at 46 schools to about 8,000 students.
The first reading took place on Nov. 15 and focused on the topic of "Science and Nature." The second reading is scheduled for Dec. 20 and will focus on "Unforgettable Characters." Remaining readings will take place on Jan. 17, Feb. 21, and May 16.