Campus Tours Provide Opportunity to Learn More About Apollo 20
Parents and teachers observe learning and teaching in action


March 07, 2011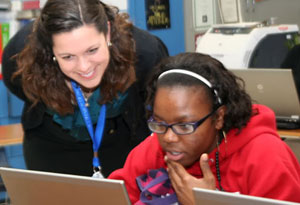 Westside High School teacher Liz Gitto visits an English Class at Kashmere High School during an Apollo 20 tour.
Apollo 20 schools provide effective teachers, more instructional time, intensive tutoring, and high expectations. The nine secondary schools participating in this groundbreaking program are attracting attention from parents, teachers, and students who want to know more about the strategies used to boost student achievement.

"I am really excited about what the Apollo 20 Program is doing. There aren't many districts in the country trying to do this," Liz Gitto explained. She is an English teacher at Westside High School who recently visited Kashmere High School during a tour for those interested in learning more about Apollo 20 schools. "I liked the rigor and engagement that I saw in the classroom. The students were all paying attention," Gitto said.

A mid-year report for Apollo 20 secondary schools showed that math scores are up, student attendance rates are higher, and student suspensions have dropped. Kashmere Principal Paul Hardin is proud of the work taking place on his campus. "We are making great strides. We expect to be attracting not only additional parents and students, who want to come here to study, but teachers who would like to make us the place they work every day, as well."

The Apollo 20 Program began in the fall of 2010 at five middle schools and four high schools, where students are benefitting from a longer school year, longer days, and intensive 2-to-1 math tutoring. Apollo students who are below grade level in math or English Language Arts spend double the standard amount of time in those classes.

"This really is all about extra opportunity to do better, to have more, and as we say here at Kashmere, to work on the good life," Hardin said.
HISD will continue to offer tours of Apollo 20 campuses. The next tour dates are April 11 and May 2.