Bellaire, DeBakey Students Win Big at Regional Science Fair
Eight will advance to Intel International Science and Engineer Fair in Los Angeles

April 20, 2011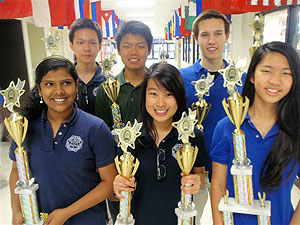 DeBakey HS students Manvitha Katta, Andy Tran, Kaiser Tin-U, Kimberly Vu, Thomas Kuncewicz, and Serene Yu (L-R) pose with their trophies from the regional science fair competition. As the alternate grand prize winner, Manvitha will be eligible to compete at the Intel contest in the event that one of the other winners is unable to.
Eight HISD students from Bellaire High School and the DeBakey High School for Health Professions will represent Texas and the United States next month at the upcoming Intel International Science and Engineering Fair, after facing some fierce competition both from district peers and from students across Texas.
More than 270 HISD students competed against students from 23 different counties from throughout Texas at the 52nd Annual Science Engineering Fair of Houston (SEFH), which was held at the George R. Brown Convention Center. SEFH serves as the regional fair for all public, private, charter, and home-schooled junior and senior high school students in Harris County and Southeast Texas.

Twenty-one HISD students were place winners at the regional fair and 33 students from HISD secondary schools received special awards for their projects. Of the 14 students selected from SEFH to compete at the international level, eight are from HISD. Below is more information about each student and the title of his or her project.

Bellaire High School
Alyssa Blackburn and Gina Toumajian: Correlations between Health Behavior and Peer/Parent Behavior
Omkar Joshi: Collision Course: 4486 Mithra
DeBakey High School for Health Professions
Thomas Kuncewic: Trafficking Chitosan Nanoparticles in HepG2 Cells
Andy Tran: Chitosan Nanoparticle Uptake for Cancer Therapy
Serene Yu, Kaiser Tin-U, and Kimberly Vu: Harnessing the Sun Using Natural Dyes for Energy
These eight students will travel to Los Angeles May 8–13 for the Intel International Science and Engineering Fair. There, they will compete against more than 1,600 high school students from 60 countries for more than $4 million in awards, prizes, and scholarships.