Students Can Win a Car with HISD's Cool to Be Smart Program
Superintendent unveils program details at news conference with student journalists

April 14, 2011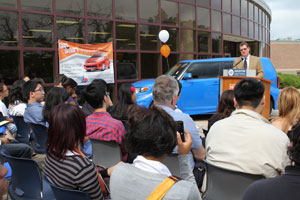 Superintendent of Schools Terry B. Grier explains how HISD is making it "Cool to Be Smart" with student incentives for taking more challenging courses at a press conference held April 14.
UPDATE 07-11-11: HISD officials will announce the winner of the car during a special ceremony at 2:00 p.m. on Sunday, August 14, at Delmar Stadium (2020 Mangum, 77092). Save the date!
---
Superintendent of Schools Terry B. Grier wants students to know that it's "Cool to Be Smart." To prove his point, he stood next to a car and said it's just one of the prizes that Advanced Placement (AP) and International Baccalaureate (IB) students could be eligible to win. Grier unveiled the "Cool to Be Smart" incentive program on April 14 at Chávez High School during a press conference with student journalists.

"We want all our students who graduate from HISD to take rigorous courses such as AP or IB and be better prepared for college," Grier said. "By giving incentives, we want to encourage our students to work hard in school and continue with a higher education. We want it to be cool to be smart in HISD."

In recent years, HISD has seen an increase in the number of students taking AP courses and exams. Currently, more than 9,000 students are enrolled in AP classes, and in 2009–2010 school year, the number of AP exams taken jumped by 43 percent to 16,556.

Thomas Turner-Mason, a student journalist covering the event for Chávez High School, said he is excited about the program. "I hadn't thought about taking AP courses, but I think this program is a good idea because I want to be prepared for college and graduation," he said. Students who attended the event will file reports for their school newspapers and web broadcasts to share news about the program with their schools.

The car is being donated by Texas Direct Auto, and "Cool to Be Smart" will also offer laptops and college scholarships.

"Whenever you're talking about money, it gets anyone interested," Chávez High School senior Karina Houston said.

In addition to giving students a chance to win prizes, the program also provides another money-saving opportunity. Students who earn a "three" or higher score on AP exams are eligible to receive college credit. "It has saved families millions because students don't have to take those courses in college and they don't have to pay for the tuition," Grier explained.

A drawing for the car will be held in August. To be eligible, students must be graduating seniors who took at least five AP or IB exams.