Kashmere Gardens' Literacy Efforts Land School a Visit from Two 'Mayors'
A group of about 40 second-graders from Kashmere Gardens Elementary School got a dual lesson on the importance of literacy and the value of civic engagement when Houston Mayor Annise Parker visited their campus on Jan. 25.
Parker came to the Fifth Ward campus as part of author Kip Cosson's national tour, through which he is promoting his latest children's book, Meece for Mayor of New York City, by scheduling readings at various public schools with local mayors.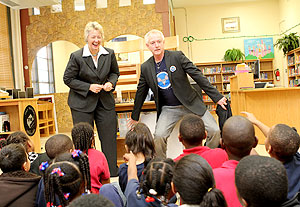 Principal Kristi Rangel said that Mayor Parker picked Kashmere Gardens for her reading location at the suggestion of City Council member Jerry Davis, who was impressed by the school's showing at his first annual Literacy Walk on Oct. 27.
"We're just a small school on the edge of Fifth Ward, but we had more than 100 people show up," explained Rangel. "Even our mail carrier came out."
Davis also told the mayor about the school's impressive accomplishments in involving parents in its literacy efforts.
"Only about 39 percent of this community's residents are considered literate," said Rangel, "but some of our students have already reached the halfway mark of our own little 'Million Word Challenge' (a Los Angeles-based initiative that encourages reading for pleasure) and that really speaks volumes about our parents' tenacity."
Both Mayor Parker and the book emphasized the importance of community involvement and the value of literacy in being a good citizen.
Kashmere Gardens was one of three HISD schools to win a $750,000 literacy grant from the U.S. Department of Education in October.