Lyons ES fourth-grader wins Fuel Up to Play 60 Super Bowl Breakfast Challenge
Dottie Warren's original recipes bring school $5K gift card to Best Buy for technology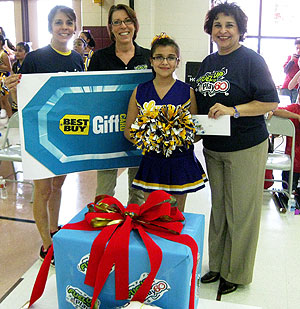 Dottie Warren, a fourth-grader at HISD's Lyons Elementary School, won a $5,000 Best Buy gift card for her school and a bag full of prizes for herself as the Texas winner of the Fuel Up to Play 60's Super Bowl Breakfast Challenge.
Dottie was surprised with the news during a special faculty basketball game staged on Jan. 25 at her school. The contest encouraged students to submit their best ideas for a delicious oatmeal breakfast that friends and classmates would love.
Dottie created a presentation that included four original recipes: Superbowl Oatmeal and Milk Smoothie, Hall-of-Fame Honey Almond Bar, Touchdown Spinach and Tomato Omelet, and Blitzin' Blueberry Oatmeal.
"All of my breakfast recipes are accompanied by a carton of milk," said Dottie, "and with my breakfast, kids can eat healthier and not be as hungry during the day. Together, we can Fuel Up to Play 60!"
"Dottie's (submission) stood out because of the creativity of her recipes and her encouragement to classmates to eat a healthy breakfast and to get 60 minutes of fun physical activity each day," said Nan Cramer, Dairy MAX school program coordinator. "She even included suggestions of how her classmates can be active in her presentation."
The $5,000 gift card will be used to purchase laptops, projectors, and other technology for the school. Dottie received a new Ninja food processor and a duffle bag filled with Fuel Up to Play 60 gear and other trinkets.