Lee HS Magnet Lecture Series Shows How Humanities Can Shape the World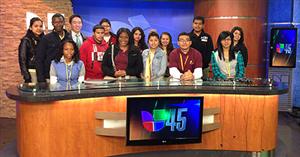 Magnet Coordinator Howard Shin says he designed the series to "take studies to the next level"
Students in Advanced Placement humanities classes at HISD's Lee High School are getting first-hand accounts of how their studies can affect the world around them through a new lecture series.
"It's important for the students to get a glimpse of how humanities can shape the work being done by professionals in the city," said Magnet Coordinator Howard Shin, who began asking local leaders to interact with his students this year.
"Oftentimes, students can go through all four years of high school without hearing from people in their desired fields," he explained, "and that is a lost opportunity. When we bring in guest speakers, they often talk about their experiences in high school, why it is important to pursue goals, what they do on a daily basis, and how their high school experience has affected their professional outcomes."
Shin said that more than a dozen students usually take advantage of the lectures—which are often paired with a related field trip—each month. Featured speakers so far have included: Univision reporter Maria Corrales, award-winning columnist/feature writer (and Lee alumna) Melanie Hauser, graduate students from the architecture program at Rice University, Lee Alumni Association President Richard Spence, and most recently, Mayor Annise Parker.
Upcoming speakers include representatives from Rice University's Kinder Institute (Feb. 13), on-air personality Dave Morales from 104.1 KRBE (March), and Al's Formal Wear President Stuart Gaylor (April).
"I tried to get a diverse group to bring the world outside of school to students," said Shin. "By interacting with working professionals, I know they're connecting their education with their future and broadening their scope of thought."