'Fund for Teachers' Grants Put 11 HISD Educators on the Road
Lessons learned in Alaska, Hawai'i, Iceland, Italy, Morocco, and Spain will be taken back to elementary school classrooms this fall
July 17, 2012
Almost a dozen HISD educators are exploring the world this summer after winning travel grants from the Fund for Teachers.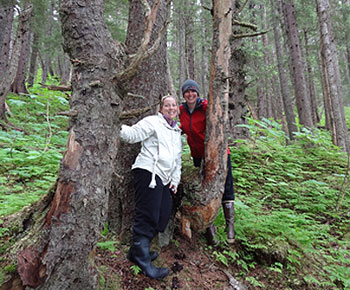 Heather Whitby from Herod Elementary and Nicki Frankie from Janowski Elementary traveled to Alaska to enhance their science skills.
Last month, educators from De Zavala ES, Harvard ES, Herod ES, Janowski ES, and Lovett ES traveled to destinations as far-flung as Catalonia (Spain), Tuscany (Italy), and Glacier Bay (Alaska) to study art, horticulture, and earth science, among other subjects. This month, a husband-and-wife team of educators who teach at different HISD schools (Sinclair ES and Piney Point ES) will volunteer at the Arctic Fox Research Center in Iceland to learn wildlife survey techniques. And in August, a team of three colleagues from Roberts ES will journey to Morocco to bolster their school's International Baccalaureate curriculum.
Since 2001, Fund for Teachers has invested $18 million in 5,000 of America's PreK–12 teachers. More than five dozen educators were selected from the Houston area to receive grants, and all were appreciative.
"I feel incredibly privileged … to be here," wrote De Zavala ES art teacher Jean King while in Spain on her blog and Twitter feed. "It's been great! Barcelona, Reus, Girona, Cadaqués, Port Lligat, Montserrat, Mallorca! What more could an art teacher want? After traveling through Dalí-land, I've come to see how the intensely personal work of Salvador Dalí is drawn not merely from his imagination, but from his environment."
This year marked King's third trip through Fund for Teachers. She also went to Europe in 2002 and the American Southwest in 2007. She was also one of two teachers to travel to Japan in 2008, courtesy of a Japan Fulbright Memorial Fund Fellowship. To see a complete list of 2012 winners from Houston, click here (.pdf).