Return to Headlines
HMW employee cafeteria getting major facelift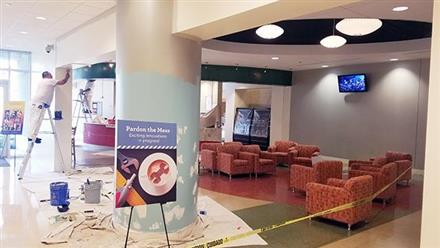 Hattie Mae White Educational Support Center's 1,200 staff members will soon be treated to a new dining experience.
Nutrition Services is overseeing renovations to the building's employee dining area. The changes will be an extension of the department's focus on "good food." The new space promises a reinvigorated focus on quality customer service, impeccable food presentation, and a variety of exciting menu options.
The majority of the renovations will be complete by Nov. 1.
"In the past, we have struggled to consistently meet the needs of our customers. The goal is to provide good food, quality customer service, in a clean dining facility at an affordable price. I like to call them the 'Big 3 of exceptional service,'" said Keith Lewis, Nutrition Services senior manager of operations, who is leading the project.
Nutrition Services tapped Interior Systems, an interior design and building solutions company specializing in the restaurant, retail and education markets, to give the cafeteria its modern makeover. The updated interior design will include installation of two large wall murals displaying Houston's notable downtown and uptown skylines. New furniture, finishings and signage were also selected for the space. A new coffee bar that includes a Starbucks station, complete with formally-trained baristas, will welcome guests at the entrance of the cafeteria.
The menu is being revamped to include more meals that reflect the diverse employee population. Dishes such as oxtails, curry, and fajitas will be available throughout the month. Each dish option will be carefully crafted by the department's executive chef team, using as many fresh and locally-sourced ingredients as possible.
Employees and visitors to the revamped space are in store for something that will be more akin to a high-end restaurant experience than a traditional employee cafeteria. Diners will be treated to freshly baked bread and welcomed by executive chefs. The staff have also been trained on customer service and relationship building.
Several other features that will be added throughout the year including:
Live action cooking stations on select Fridays
A breakfast omelet station twice a week
Specialty chef selected dishes bi-weekly
Nutrition Services didn't leave employees out of the renovation action. Employees assigned to Hattie Mae were given the opportunity to make one of the most significant marks on their new digs -­- choosing the name. Last month, employees were invited to vote on the new name and 28 percent of employees chose "Hattie Mae's" as the cafeteria's new moniker.