NATIONAL JUNIOR HONOR SOCIETY 2018-2019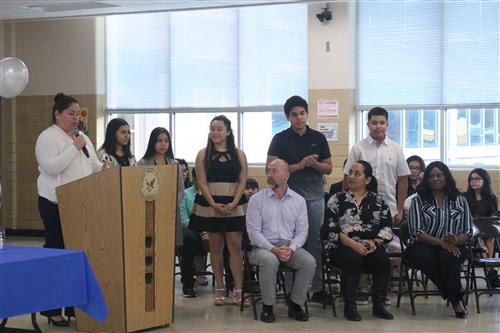 Ms. Mancillas introduces the 2018-2019 National Junior Honor Society Officers. Standing left to right at Yaretzy Garcia, Anaida Serrato, Angelic Sanchez, Rodrigo Flores, and Miguel Romo.
Promptly at 5:30 pm on Friday, January 19, 2019, our National Junior Honor Society officers led the current and new members to their seats in the cafeteria to formally begin Burbank Middle School's Induction Ceremony. The school cafeteria was decorated with nice tablecloths, decorations, and balloons in the society's colors, blue and silver. Parents, teachers, and friends were already seated. Ms. Dulce Mancillas, our chapter adviser, welcomed everyone and introduced the Faculty Council who were sitting in the front row at the head of the room. The council manages the selection process as well as monitors the members' performance during the year. Our Faculty Council members are Ms. Susan Avila, Ms. Lucero Rodarte, Ms. Deborah Hunley, and Ms. Amanda Vasquez. Next, Ms. Mancillas introduced our Principal, Mr. Knittle. He said in his remarks how difficult it is to belong to the NJHS and how proud he was of our members. He congratulated them and their parents on having achieved this great honor.
Following Mr. Knittle, Ms. Vasquez, our Magnet Coordinator, addressed the society members. She wanted them to be aware of the good opinion their teachers have of them and how well they're managing their student careers. She said she hoped that their membership in the National Junior Honor Society would be a great tool for their continued success.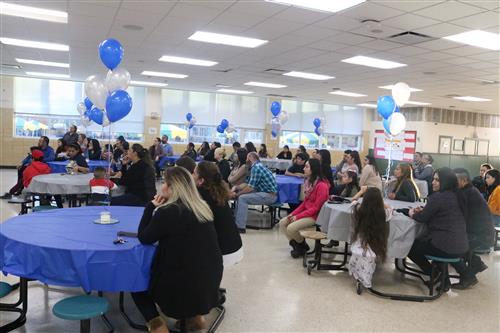 After Ms. Mancillas translated Ms. Vasquez' remarks, she introduced each of the officers and gave them their officer pins. The President, Yaretzy Garcia, began by saying general remarks about the origins and the function of the Society. Then, just before she spoke about one of the pillars of the Society, she lit a candle from the Candle of Wisdom. Each officer in turn would repeat her action until all five candles were lit. These are our officers and the section each covered:
President Yaretzy Garcia, who spoke about Leadership.
Vice President Anaida Serrato, who read about Service.
Secretary Angelic Sanchez, who explained Scholarship.
Treasurer Rodrigo Flores, who told us about Citizenship.
Historian Miguel Romo, who remarked upon Character.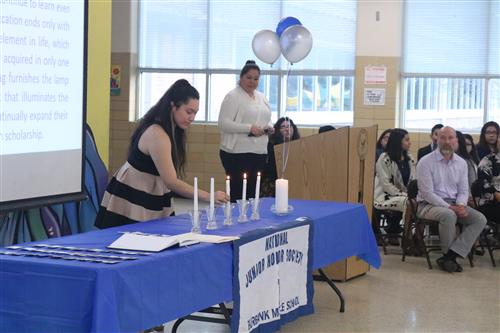 Following the candle ceremony, Ms. Hunley came to the podium and called upon each new member to step forward and receive their certificates and pins. One by one they also went to the table to sign their names in the Memory Book before going back to their seats. Once all members had received their pins and certificates and had signed the book, Ms. Mancillas aked all current and new members to rise to take the Society Pledge:
"I pledge to uphold the high purposes of the National Junior Honor Society to which I have been selected; I will be true to the principles for which it stands; I will be loyal to my school and I will maintain and encourage high standards of scholarship, leadership, service, and character."
Ms. Mancillas thanked the teachers, parents, and students for attending the ceremony and expressed her delight for working with such a talented group of students. She assured the students and parents that Burbank would continue working to provide the best educational environment for their continued growth. She especially thanked Mr. Knittle for his continued support of the Society in our school and then invited everyone to partake of an excellent dinner that had been prepared to celebrate this great occasion.