VANGUARD BANQUET 2019
May 17, 2019
The Fifth Annual Magnet Vanguard Banquet was held on the evening of May 17, 2019 at the Hacienda Bella Terra Banquet Hall on East Little York Rd. Parents, students, teachers, and administrators came together to celebrate our Vanguard students' achievements for the year. After a delicious dinner and convivial conversation, the formal part of the activity began with the introduction of our guest speaker, Ms. Vanessa Palomares.
Ms. Palomares is a former Eagle, moving up to high school in our 2014 Promotion Ceremony. She attended our neighborhood North Houston Early College High School, obtaining her high school diploma and an Associate of Science degree in 2018. Since then, she has been studying at Brandeis University in Massachusetts pursuing a degree in Health, Science, Society and Policy and Anthropology. Her remarks touched our students directly, since she spoke from a perspective of shared experiences. Her words will serve to inspire our students to never give up their dreams!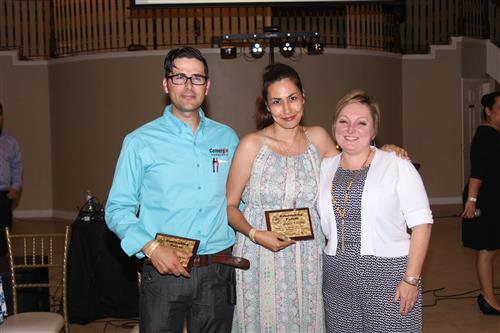 Following Ms. Palomares' motivational speech, our Magnet Vanguard Coordinator Mrs. Amanda Vasquez Monita, called the first cluster of teachers to come up and distribute the Awards. They were accompanied by our administrators Mr. Ruben Pineda, Mrs. Ida Carter, Mrs. Kylene Boswell-Jones, and Mrs. Alma Lydia Ruiz. The Sixth, Seventh, and Eighth grade Vanguard Clusters were all represented, as well as all the Dual Language Vanguard Clusters. As our students' names were called, they would come up to the front of the room to receive their awards.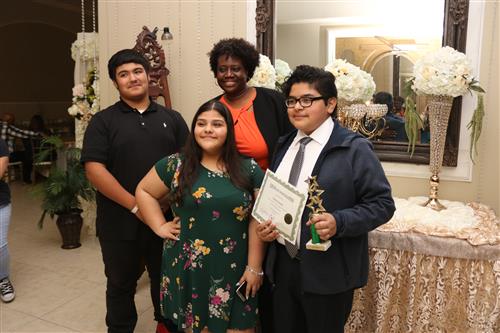 The evening closed with music and dance provided by DJ S. Luviano. This was a wonderful night our students will long remember as they danced into the night! Enjoy the galleries courtesy of Mrs. Vanessa Carranza.