Renaissance Growth Platform (RGP) + Task Cards

The NEW Renaissance Growth Platform is now available through Clever sign-on at www.houstonisd.org/screener.
Students will continue to access Renaissance assessments through digital resources on the Hub.

Video: Why Renaissance Growth Platform (RGP)?
Renaissance BOY Administration Guides and Resources
Administration Window: September 14 - October 14
(Extended from October 9 date)
Early Literacy (Grades K - 1)
Reading (Grade 2 - ENG2)
Math (Grade 1 - ALG1)
BOY Administration Resource Links
Description and reference

Virtual BOY Professional Development

Past PD Resources Upcoming Renaissance PD Calendar

Video: Renaissance For Leaders Recorded PD (PPT) (Doc) (60 min)

Video: Renaissance for Teachers Recorded PD (PPT) (Doc)

Teacher Virtual BOY Playlist (one-pager)

One-page document to guide teachers through assessment process

PowerPoint for FACs to use for campus orientation and participants guide.

Teachers can use this report to quickly verify their student roster.

Missing students or classes missing product may be related to automated assignment. Use this task card to investigate and resolve.

Teacher email template to send to parents and students

Video modeling virtual proctoring PPT and scripts for BOY

Demonstration Video: iPad - HUB to Early Literacy Test

Demonstration Video: iPad - Teams to Early Literacy Test

PowerPoint with script for teachers to use with students to administer BOY

Use this Test Activity Report report to monitor test status and track test completion of your students.

Guidance for how to plan an assessment process on your campus

Guidance for teachers on how to plan their Renaissance BOY assessment

Understand the results and instructional implications with this guide

Principals can use this form to give access for up to six campus staff to administrate Renaissance.

Use this link to start an email to the service desk. One of our team will answer in the order received, include school, teacher, and example student information in your ticket to help us resolve it more quickly.
Renaissance

Growth Platform

(

RGP)

is the HISD Universal Screener platform used by HISD to identify students' reading and math proficiency levels.

Explore RGP in a virtual open lab! HISD Virtual Open Lab Flyer

Campuses

can

m

ake an MS Teams Booking

via HISD @ Home

or

contact HISD ServiceDesk to create an RL360 ticket for login & hardware issues. 

ServiceDesk@houstonisd.org

  

713-892-7378 (SERV)

Student Assessment will support campuses with the assessment administration, online readiness, data disaggregation, and action planning.

New resources and DDI supports will be available for screener data use at 

HoustonISD.org/DataRichYear
How do I get started with RGP?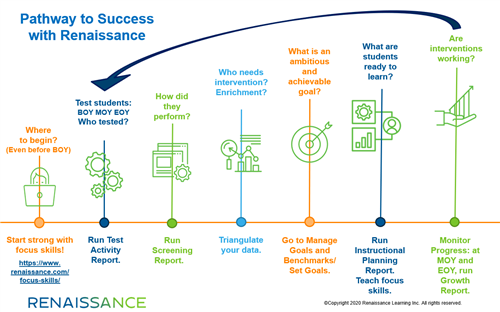 | | |
| --- | --- |
| Renaissance Focus Skills | Focus Skills provide a standards-based roadmap for closing learning gaps as students move toward greater concept mastery. |
| Renaissance 101 | PowerPoint overview of updated Renaissance Growth Platform |
| RGP Crosswalk Documents | Crosswalk documents provide RGP upgrade description and common FAQs |
| RGP Sandbox | RGP Sandbox URL and Log-in Instructions |
| Task Cards (see below) | Use concise task cards to assist with common reporting and administration tasks. Find links in the table further below. |
Live Support Options

Use HISD @ HOME Bookings to schedule a one-on-one or group video conference with one of our formative specialists using Microsoft Teams. Click the link below to make a booking for OnTrack or Renaissance.

Link: Make an MS Teams Booking
Student Assessment has created documentation designed to assist campuses in completing specific tasks using Task Cards. Additionally, guidance documents have been created for reporting and planning purposes. See the links below for the resource that suits your need.
SUPPORT RESOURCES

TASK CARDS

Planning

Description

Basic navigation, preferences, manuals and support options NEW!

Assign product/assessments to courses NEW!

Create specialty *Single tester classes for teachers

Video: Add *Single Tester Class

Plan instruction for your class or individual students in Renaissance. NEW!

Teachers can set goals for the entire class or groups of students on the same screen for all Renaissance assessments, in both English and Spanish.

In these documents, Renaissance presents the Focus Skills™ of each grade. They are the foundational skills that are essential to advancing learning and supporting the development of future skills.

This manual provides general information about the Star assessments and specific guidelines for administering Star Early Literacy, Star Reading, and Star Math.

Test Administration

Description

Student login task for teachers

Create login cards to assist students with login information

Add and remove team teachers to view reports NEW!

How to provide available accommodations in Renaissance NEW!

School administrators can use the Deactivate feature from Star Record Book report to remove assessment scores.

Reporting

Description

Use this report from OnTrack to review the students previous scores in Renaissance.

How to view student testing completion status in Renaissance NEW!

Printing Parent Letters to share screener results with parents NEW!

How to view, tier, and sort data in OnTrack.
For Principals - iDelegate Ren360 Access Request Form
Asynchronous Professional Development Series
Click here to find additional professional development dates and resources.
The FA@Home website has ready-to-use resources for supporting virtual assessment.
Formative Assesment Coordinators (FACs)
Parents
Administering Renaissance at Home

Video guidance for Renaissance assessent at home