Capital Planning Steering Committee
About
The Houston Independent School District aims to equitably educate the whole child so that every student graduates with the tools to reach their full potential.

The 2021-2022 Capital Planning Steering Committee will play a critical, strategic role in helping the district accomplish its goals by developing a plan to ensure all students have equitable access to modern, innovative, and safe learning spaces that help them grow and thrive.

The steering committee — an independent citizens committee made up of community members — will be tasked with providing strategic direction, feedback, and guidance to the district as it prepares to address needs identified in the 2021 facilities assessment.
Members
The committee will consist of up to 25 members representing all nine Board of Education trustee districts. Appointments will last for one year — or the duration of the 2021-2022 Capital Planning Steering Process.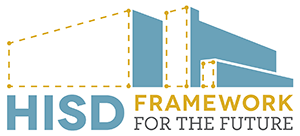 Contact Us
Andreas Peeples
Officer, Construction Services

Houston Independent School District
3200 Center Street
Houston, TX 77007
713-556-9520
Calendar
There are no upcoming events to display.